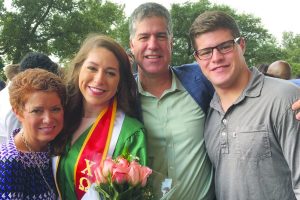 Bartonville residents Becky and John Alday are fighting Becky's multiple myeloma with all the resources they have—love, bravery, and perseverance.
And now, they are extending their resources to others battling the disease by participating in the upcoming MMRF Team for Cures: Dallas 5K Walk/Run scheduled for this Sunday, May 7.
The race will not only provide emotional support for those afflicted with the disease but will also provide financial support for the Multiple Myeloma Research Foundation, a nonprofit organization dedicated to finding a cure for the cancer.
Becky was diagnosed with multiple myeloma in May 2015. "You know I didn't really have strong symptoms. I just felt very fatigued, just very tired, but I was working hard, not taking care of myself."
Multiple myeloma is a disease in which plasma cells in the bone marrow become malignant. Plasma cells are important contributors to the immune system as they produce immunoglobulins or antibodies that fight infections. Indicators of multiple myeloma include low numbers of red blood cells and high counts of light chains in the blood.
Becky went to see her doctor who ran blood tests and then advised her to see an oncologist. Her oncologist, Dr. Brian Berryman of Texas Oncology, has had Becky undergo multiple treatment options, including chemotherapy, an autologous stem cell transplant, and newly introduced drugs (Pomalsyt, Darzalex, Velcade, and Kyprolis).
Of Berryman, a honorary co-chair of the MMRF's race, Becky said, "He is amazing. He is phenomenal. He takes a very personal interest in his patients. He is very honest, straightforward. I have laughed and cried and he has been calm and forward thinking."
John noted that Berryman's motivation to enter the oncology field was spurred by his mother's battle with cancer.
Said John of his wife, "She is a fighter! When she relapsed after the autologous stem call transplant last year, she jumped right back into the fight with aggressive chemotherapy treatments. While it has sapped her strength and maker her very tired, it hasn't touched her resolve and sense of humor."
Currently, Becky goes to Baylor four times a week for immunotherapy. "Right now, I feel good, not great. My kappa light chains are high. I get tired. I have no hair. I try to eat healthy. I don't have much of an appetite but try to eat protein," Becky said. To cheer herself, Becky noted that she does "order a lot of stuff online."
But Becky is not on her difficult journey alone.  She said, "I am so blessed—I have an amazing support group, including my sister Carrie Shaffer and my Fab Five group. My husband is amazing. He has been my rock, my lifeline."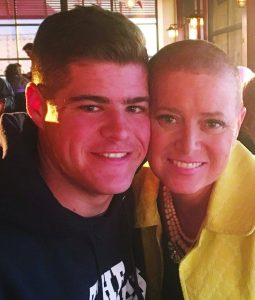 Besides the support Becky receives from John, family, and friends, the couple's two children have been helping their mother, too. This summer, their 20-year-old son Johnny, a graduate of Argyle High School and a midshipman at The Citadel's Naval ROTC unit, will spend a week in and out of Baylor Sammons Cancer Center, during which he will donate stem cells to his mother.
Daughter Karen, 23, a graduate of the University of North Texas who is currently working for Texas State Senator Kelly Hancock, won't be able to participate in this year's race and couldn't attend the race last year as she Karen was working in Senator John Cornyn's office in Washington. With pride in her voice, Becky explained how Karen has passed the LSAT and plans to enter law school in 2018.
"This summer is going to be tough," noted John. "The transplant knocks you out for a couple of months. We're looking forward to getting it over with."
The upbeat Becky concurred, saying, "What else can you do but keep going?"
As a family, the Aldays retain as much normality as is possible under the circumstances. For example, John and Johnny will continue hiking the Appalachian Trail May 8.
"A lot of folks in the community are involved in our efforts to support the MMRF's Dallas 5K Walk/Run," John said. "Jake Trahan, the owner of Anytime Fitness in Lantana, is holding a treadmill marathon for the cause where runners can pledge $10 for every 10 minutes they spend on the treadmills. Also, our great friend Nicole Brown is holding a virtual 5K in Flower Mound." Added Becky, "And Imagery in Motion Dance Studio might do something."
Currently, Team Alday Everyday is #1 on the leaderboard for raising funds for the race, already succeeded in raising $3,305 of its goal of $5,000.
Team Alday Everyday's portion of the MMRF website has John's words, "Join Me! The MMRF is removing obstacles faster and extending lives. But we need your help. I have committed to raising awareness and funds to accelerate finding a cure for multiple myeloma, which is the second most common blood cancer and is incurable."
Team Alday Everyday lauds supporters' generosity since funds raised at similar races around the country have helped MMRF almost triple patient survival, create 10 new treatments in a decade, and offer clinical trials 60% sooner.
Becky and John explained that an important presence at the race will be that of Be the Match, an organization that helps blood cancer patients. Be the Match runs a bone marrow registry at www.bethematch.org that aligns patients who have blood cancers with individuals who are genetic matches and can donate stem cells for life-saving stem cell transplants.
The 2017 MMRF Team for Cures: Dallas 5K Walk/Run will take place Sunday at Fair Park's Cotton Bowl Plaza in Dallas. The walk/run event will begin at 7:30 a.m., with the actual race commencing at 8 a.m. Dr. Brian Berryman of Baylor and Dr. Larry Anderson of UT Southwestern will be the race's honorary co-chairs.
To donate to Team Alday Everyday, visit walkrun.themmrf.org/Dallas/alday.
To learn about more about the MMRF, visit www.themmrf.org. For information about the North Texas Myeloma Support Group, visit www.northtexas.myeloma.org.