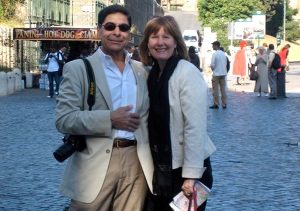 Bridge Realty of Texas that opened last year in Parker Square may be relatively new, but the owners– husband and wife team Phyllis and Lionel Garcia– have been serving the commercial real estate needs of clients in the Denton County area for years.
"We're very pleased," said Phyllis, who brings 18-years of area commercial real estate experience, adding: "And, we are very busy."
With 80-percent of their business coming from repeat clients or referrals, it's no wonder.
"In a nutshell, we would say our first year of business exceeded all expectations," said Lionel, who is glad he left a career in the corporate world.
The couple is most proud of the long-term relationships they have developed with their clients to achieve their goals. As an example, Phyllis has worked with one technology company for more than a decade, helping it expand five times– from 1,500 square feet to 40,000-square-feet to accommodate their growth.
Another client with whom Phyllis has developed a relationship calls Bridge Realty: "their realtor for life." Over the past 12-years, that business has grown from a 2,000-square-foot office to its current space in excess of 15,000-square-feet.
"It's exciting that our clients really value the input and experience we can bring to their business-growth plans and that keeps them coming back to work with us," said Phyllis. "They value us as a team member."
The Texas natives– and Flower Mound residents– have lived in southern Denton County since the early 1980s. Their three daughters graduated from Marcus High School; and, they now have two granddaughters living in Austin.
The couple have been long-time members in community-based activities, including membership in both the Flower Mound and Lewisville Chambers of Commerce. And they're personally knowledgeable about the commercial real estate growth in their target market.
"Being a local firm, we are specialists in this market area," Phyllis said. "We do leasing for retail, office and warehouse. We represent several multi-building properties for their leasing needs. Plus, we focus on sales for owner-occupied or investment properties, whether it's land, office or retail buildings."
Simply put, they like to help their clients realize their real estate goals, whatever they might be. They help large and small businesses in industries, including technology, medical, financial, marketing, insurance and restaurants.
"We have the experience, desire and passion to assist the business owner; whether you are on the selling end, the landlord or the tenant," Lionel said. "We take a personal interest which they just don't get from some larger firms."
Contact Bridge Realty of Texas at 972-899-1851 or bridgerealtytexas.com