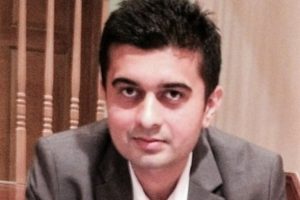 by Mahesh Kashyap
I personally try to read a lot about new technology and how it is impacting the way we do business.
A long time ago, I read a book, "Good to Great," by James C. Collins. He touched briefly in his book about staying in touch with current technology. In that book he talked about companies who refused to accept the reality about the changing technological atmosphere; only to realize later that their business has been taken away by new(er), younger companies.
I still remember that lesson and try to keep tabs on what is happening in the industry.
We are going through a major technological shift, which will impact lot of companies and businesses. They will have to adapt to new strategies, implement new technologies (whether they like it or not). Some companies have already started building their intelligent chat-bots, interactive portals (which leverage cognitive services), machine learning, analytics and more.
Capital One recently announced its first natural language SMS chatbot for customers to  manage their accounts by interacting with "ENO," via SMS messages.
I am sure a lot of you must be thinking about which industries will get impacted. I will try to talk about a few services/verticals that will get impacted by AI.
Customer Support: is an integral part of any business and is currently handled by real people. I was chatting with a medium-sized company, which is planning to launch their "intelligent" customer support chatbot as part of their test pilot program. It will take some time, iterations, algorithm improvement, before they can actually rely on its accuracy. But, the change has already started. Companies are going to look into alternate ways to cut their costs, increase their efficiency and more. Soon you will see many companies adopting and accepting Artificial Intelligence as part of their growth strategies.
Marketing and Lead Generation: Imagine how many businesses lose their potential customers when their chat agent(s)/customer service reps are not present. When someone visits their website and leaves without doing anything is a loss of potential revenue.
Welcome to the world of Sales and Marketing Bots, where they can: talk to a website visitor; collect the email address; provide information being sought; provide hot offers on the go; track orders; and, even place an order, while business owners are sleeping. I am sure a lot of companies will love that as part of their business growth strategy.
Lead Generation is another area that will utilize chatbots, Smart AI-based services, to generate more leads for the businesses, deliver those and even manage leads to sales cycles.Lots of E-commerce websites, product based companies, professional servicing industry companies can benefit from this and will jump on the AI wagon sooner or later.
Financial Transactions and Support: Financial Institutions are implementing chatbots, intelligent AI that can do pretty much anything that a live person can do. People do not have to browse pages and pages; just stay at one place and get everything done. In any industry, data and information security is a top-priority when developing these solutions.
Artificial intelligence is going to touch most of the verticals and industries including: banking; automotive; manufacturing; E-commerce; professional services; shipping; airline; logistics; and, more.
What will be the impact on job market? This shift will result in job losses. It will not happen right away. It will take at least five to 10-years before anyone will see the full impact, while creating a new set of jobs. It is always good to be prepared and stay on your toes when it comes to learning new skill-sets and adopting to a changing market.
For those who feel that this change might impact their business and company, but still have lot of questions, then feel free to reach out to me with them. Also, I would love to hear your thoughts and views on whether you consider Artificial intelligence as a real game-changer that will impact the future, or you consider this as a fad that will pass away with time.
Mahesh Kashyap, CEO, GroupInc Consulting
[email protected]
(940) 241-7195