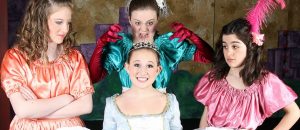 by Annette Weir
There's something very special about small town life. Unlike large cities with populations of hundreds of thousands, or even millions of people, a small city or town can be a friendly reminder that we are part of a community in which residents are able to make a concerted impact on their quality of life.
From town councils, to school boards, to charitable groups and recreational events, the participation by concerned residents is the main ingredient in forming a stable community, as well as the glue that holds it together.
Part of the adhesive in that glue is the recognition and promotion of the intrinsic values inherent in artistic development.
In order to cultivate a well-rounded education for ourselves and our children it's important to experience the variety of creative talent in our orbit. One of those inspired endeavors can be found in the performing arts arena.
Studio B Performing Arts Center, at 2400 FM 407 in Highland Village, has been providing live theater, acting classes and workshops in The Center since 1999.
With a seating capacity of 100, Studio B performs some of the classics like "The Wizard of Oz" and "The Nutcracker." In addition, comedies and musicals like "Southern Hospitality" and "Songs from an Italian Restaurant," will entertain and delight audiences in every age bracket.
Watching these remarkable actors, assisted by colorful set decorations and well-designed costume changes, is almost magical in its ability to capture one's imagination.
Studio B encourages area residents to appreciate and participate in all aspects of the theater, music, and the arts in general. Moreover, it strives to foster creativity and develop the skills embodied in acting, musical theater, voice, dance, script development, and all around knowledge of the stage and some of the technical aspects of the performing arts. Furthermore, it prepares students for advanced studies in the field of acting and musical theater.
By taking part in the classes, workshops and productions, they endeavor to create an atmosphere of creativity, development of skill sets, collaboration and independent thinking. Through performing arts, the young and old alike can build self-esteem and confidence. Most importantly, Studio B unites the community and brings families together.
On a personal note; if you haven't attended one of their murder/mystery dinners you have no idea how crafty they can be with their clues and their ability to astonish an audience.
My spouse and I attended some of those stage plays with a small group of friends and have been totally baffled in our attempts to solve the murders. Even my husband, who is a former police detective, thought he had the murderer nailed in one particularly stimulating comedy/drama, only to discover, to his chagrin, that he had missed a few clues which would have pointed directly to the killer.
To spend an evening with friends at a local playhouse, whether it includes dinner and drinks at a comfortable table in close proximity to the stage, or to enjoy a performance from a seat in the standard theater setting before or after dinner, you will have the type of experience you once thought was only to be found in the larger venues of big cities.
Incidentally, I neglected to mention something that might make the day even more memorable; the very reasonable prices of admission to these marvelous presentations! Please check out the upcoming menu of plays and auditions that might stimulate the aspiring artist in you: www.studiobtheater.com.