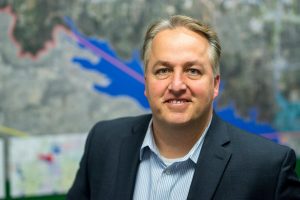 Spring certainly arrived with its share of severe weather in March. Although it's never pleasant to be woken up to the sound of our outdoor warning sirens, I am thankful the Town has measures in place to help residents stay safe. As April and May often bring their share of severe weather in Texas, it's a good time to review helpful hints that will get us through spring storm season.
First, and foremost, be sure to sign-up for emergency notifications through the Town's Everbridge notification system. This system enables the Town to provide you with critical information related to emergency and non-emergency events such as severe weather, evacuations, major road closures, mosquito control spraying, and inclement weather closings. You can sign-up to receive notifications in a variety of ways, including via phone, text, and/or email. To do this, simply visit www.flower-mound.com/emergencynotifications.
Another amenity the Town has in place is our outdoor warning siren system. This month we will have two new sirens installed, for a total of 22.  In the past three years, the Town has worked double the amount of outdoor warning sirens there are to ensure better coverage for residents. Although each community has different criteria for activating its sirens, Flower Mound goes by three guidelines, set forth by the North Central Texas Council of Governments: reported hail of 1.25-inch diameter or greater (1-inch hail may be more appropriate for areas or events where large numbers of people are outdoors), rotation in a dangerous cloud or a tornado, or straight-line winds over 70 miles per hour. The sirens may be activated in small groups for a localized emergency or they all may be activated simultaneously for a Town-wide emergency. To be clear, the system is not intended to alert residents in their homes and those indoors should rely on other forms of emergency notifications. If you'd like more information about our sirens, please visit www.flower-mound.com/sirens.
Unfortunately, many of us realize we aren't prepared for an emergency until we faced with one. There are many things we can do to help ourselves be more storm-ready this season, such as build a disaster kit (www.ready.gov/build-a-kit) and create a family communications plan (www.ready.gov/make-a-plan). We always hope to never need it, but we all know North Texas weather can be unpredictable.
After this first round of storms, I know many of you had downed trees and debris in your yard that needed to be cleaned up as did many of our parks and facilities. I'm happy to report Republic Services has granted Flower Mound residents unlimited landfill access for the next four weeks to help with this process. Landfill drop-off and bulk pick-up guidelines can all be found on our website at www.flower-mound.com/259/Trash-Recycling. As always, our Customer Service representatives are also here to answer any questions you might have at 972.539.SERV (7378).
Finally, we all hear stories from time to time about residents who hired a bad contractor to complete work on their homes. If you need work done on your home or business, such as to replace a roof or fence, be sure to follow these guidelines by the Texas Department of Insurance:
Start with a call to your insurance company to get advice on what repairs should cost.
Use local companies and check their references and contact numbers.
Get written estimates. These should be on the company's letterhead with clear contact information.
Get more than one bid. This will help you gauge which offers are legitimate and which may be too high or too good to be true.
Don't pay the full amount in advance. Legitimate contractors may require a partial payment up front to get started, but your final payment should not be made until the job is finished.
If you feel pressured or threatened, please feel free to call the Flower Mound Police non-emergency line at 972.539.0525.
Your contractor should also be registered with the Town and obtain required permits from our Building Inspections division before work begins. You can check that your contractor obtained a permit and later completed the required final inspection at etrakit.flower-mound.com.
As always, the Town of Flower Mound is here to serve you and provide any assistance we can. We have a great community that never fails to go above and beyond when disaster strikes and I am honored to be a part of it.