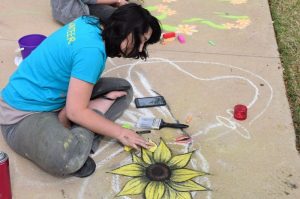 ColorPalooza: A Celebration of Spring, the City of Lewisville's outdoor Spring festival, is this Saturday.
ColorPalooza is a family-friendly event that will run from 10 a.m. to 5 p.m. on Saturday, April 8, in and around Wayne Ferguson Plaza, 150 W. Church Street.
It's designed to showcase the rich cultural, artistic, and eco-friendly spirit of Lewisville, and invites attendees to experience a day of creativity, education, and hands-on art activities and displays in Old Town Lewisville.
Musical groups The Obscure Dignitaries, Kirk Thurmond & The Millennials, and Havana NRG! will perform on the Wayne Ferguson Plaza stage, entertaining visitors with different genres of music.
The City of Lewisville's Poet Laureate, J. Paul Holcomb, will have a special performance on the Wayne Ferguson Plaza stage at around 12:30 p.m.
Cultural performers will entertain festival-goers throughout the day from the City Hall stage. One special feature of those performances is that two solar-powered trailers will be used to power both stages.
Highlights for this year's ColorPalooza include Chalk This Way, presented by Total Wine & More. The popular sidewalk chalk extravaganza showcases amateur and professional chalk art.
There also will be interactive art activities for children; a kite-flying competition; a DIY tie-dye station; art demonstrations from Pomegranate Underground featuring glass blowing and graffiti artists; Painting with a Twist classes; Eco-Alley, a dedicated space to learn about how to be more environmentally friendly; electric vehicle displays; and food and art vendors.
Admission is free, although some activities may include a nominal fee. For more information on the musical and cultural performers, and a complete rundown of the day's events, visit lewisvillecolorpalooza.com.