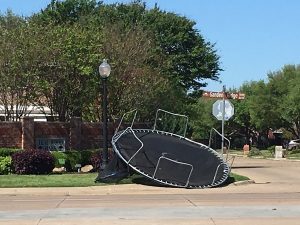 High winds associated with a line of severe thunderstorms blew down trees, tore off shingles, tossed trampolines and even toppled vehicles early Wednesday morning.
Widespread property damage was reported in Argyle, Flower Mound and Lewisville after the storms hit between 2 and 3 a.m.
In Lewisville, several vehicles were blown over in the 1200 block of West Main Street and several businesses had extensive roof damage. Read more here.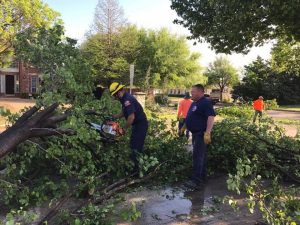 If you are or know of a senior or disabled person who lives in Flower Mound, and need help removing a downed tree or debris, call 972.539.SERV (7378) for assistance. Volunteers should also call 972.539.SERV (7378).
The National Weather Service is scheduled to be in Flower Mound and Lewisville later today to conduct damage assessments.
Meanwhile, storm cleanup continues after Sunday's hail storm.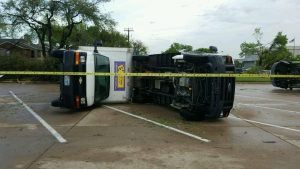 The Flower Mound Fire Department Division of Emergency Management is collecting data on damages sustained to homes or businesses in the March 26 hail storm. If you'd like to provide information related to your home or business, visit http://www.flower-mound.com/FormCenter/Fire-Department-10/Damage-Report-Form-96.