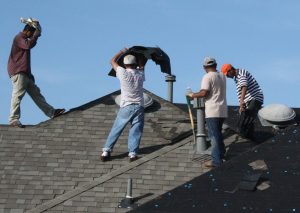 The Better Business Bureau receives hundreds of complaints each year concerning subpar work performed by contractors. BBB advises people to take the time to properly research contractors for any needed repairs.
As the storm system passes, people will evaluate damage and begin the clean-up process. Better Business Bureau serving the Heart of Texas offers these tips for people who find themselves in need of repairs due to the severe weather:
Contact your insurance company immediately. Call your insurance company before work begins to make sure all necessary procedures are followed according to your policy. Make sure you fully understand your deductibles and what your policy covers before having any work done. If you do not follow your insurance company's guidelines, you may be stuck with the entire bill.
Find a trustworthy contractor. Deal only with licensed and insured contractors. You can verify licensing information through the Texas Department of Licensing and Regulation. Go to bbb.org to find a BBB Accredited business and to get multiple bids. Retain a copy of the final, signed contract before the job begins.
Take your time signing a contract. Get a written estimate that includes any verbal promises and get multiple bids.
Avoid paying a large sum upfront. Resist dealing with any contractor who asks you to pay for the entire job upfront. A down payment is acceptable, but it should not be a significant amount of the total cost. Pay only by check or credit card – and pay the final amount only after the work is completed to your satisfaction. Avoid paying in cash.
Beware of door-to-door solicitations. Sudden, severe storms can bring fly-by-night contractors to the area. Often these contractors solicit work door-to-door, have no license or contact information and require high upfront fees before beginning any work. BBB recommends researching the company before agreeing to have any work done.
For the latest news and information, follow BBB on watchyourbuck.com, Facebook and Twitter. To check out a company and find trustworthy businesses, visit bbb.org.