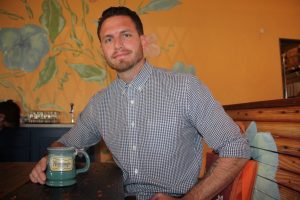 Argyle is becoming a destination for area foodies … and fans of quirky architecture.
Located just north of FM 407, on the east side of Hwy 377, is what might be labeled a "cuisine compound."
Kimzey's Coffee Shop recently opened at 429 Hwy 377 behind the Fuzzy's Taco Shop franchise, at 421 Hwy 377, the first occupant in the growing compound. Second, was Earl's 377 Hand Crafted Pizza Kitchen, at 427 Hwy 377– which opened in May 2016– the former home of the Argyle Volunteer Fire Department. And, set to open on April 5, will be the fourth resident food destination, Bumbershoot Barbecue at 425 Hwy 377.
The brains behind the growing restaurant empire is the Denton-based Elk River Investments group, owned by John "Sparky" Pearson of Argyle, who is also behind LSA Burger Co., plus Barley & Board in Denton. The coffee shop is named Kimzey as a salute to Pearson's grandfather and his daughter's middle name.
The brand-new Kimzey's Coffee Shop "dreams of a world brought together by good coffee, a kind community and a whimsical imagination." One look at the shop's exterior proves they literally mean what they say.
The building has two field stone chimney stacks, a wavy wood shake-shingle roof and a front entrance straight out of Toad Hollow or a Hobbit tale.
"Everything about this place is inviting people in to imagination, creativity and a little bit of an escape from reality," said Matt Fisher, Kimzey's operator and owner of West Oak Coffee Bar in Denton. "We're hoping it can kind of become Argyle's living room."
While the outside is whimsical, the offerings inside are seriously professional under Head Chef Amanda Potter, a well-known baker.
As the latest member of the West Oak Coffee family, it will serve the same high-quality coffee choices, food and alcoholic beverages the patrons of West Oak Coffee Bar in Denton have come to expect.
"We're significantly different from what people are used to getting through a drive-thru," said Fisher. "We're really specific about making everything in-house. We really believe in our coffee so we want the coffee to be the highlight; we don't want to cover it up with a bunch of sugary things.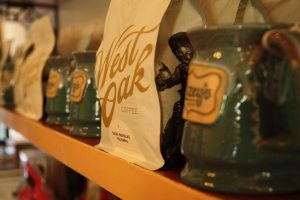 "All we have is vanilla and mocha and we'll do some seasonal specials as we get a little more into the groove, but we really hope that people will try different coffee; that's why you will see a different menu than in most of the other places.
Kimzey's will welcome people seven days a week from 6:30 a.m. to 9 p.m.
"We are really, really excited to be part of this community and can't wait to meet everybody that comes in," said Fisher.
On April 5, a shiny 32-foot permanent Airstream-style trailer will start serving barbecue worth the drive to Argyle.
Bumbershoot Barbecue will be under the direction of Earl's and Barley and Board Executive Chef Chad Kelley.
Bumbershoot Barbecue's menu will include brisket (smoked with hickory, then pecan); pulled pork; St. Louis-style ribs; roasted chicken, turkey; and at least two varieties of sausage. It will also offer tater-tot nachos topped with chopped brisket and shredded cheese.
Bumbershoot's sides will include coleslaw; smoked red potato salad that's similar to a loaded baked potato; and baked beans with apple hot-links for flavor. It will also have specials like smoked bologna and chicken wings.
Diners will be able to enjoy Bumbershoot's food sitting at either picnic or umbrella-covered table, or use Earl's patio and screened porch. There will be misters for the Texas heat and heaters for the Texas chill.
Bumbershoot will be open at 11 a.m. and serve until either the food runs out or 2 p.m., whichever comes first. It will re-open at 5 p.m. with fresh servings. As is the plan with many joints like it, they'll sell barbeque until they run out. It will be closed Mondays.
"This is our approach to ensuring a great quality product," said Jason Ramey, operations manager. "We pride ourselves in not serving meat that sits in a warmer all day. Everything will be fresh and coming off the pit throughout the day."
For more information, menus and directions, visit: kimzeys.com for Kimzey's Coffee; www.earls377pizza.com for Earl's 377 Pizza; www.fuzzystacoshop.com for Fuzzy's Tacos. Bumbershoot Barbecue's website is under construction.