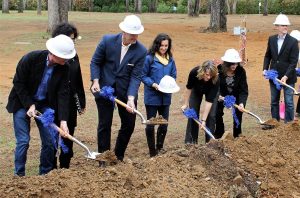 Last Friday, Coram Deo Academy broke ground on its new multi-purpose facility on the Flower Mound Campus tucked away off Wichita Trail.
Leading the groundbreaking was Coram Deo Headmaster Bill Rector. Honored guests included Flower Mound Mayor Tom Hayden, as well as current and former parents and students.
The 23,000 square-foot facility will host school sporting events, fine arts competitions, musical performances, classrooms, expansive space for physical education classes and a designed storm shelter to protect students and staff while on campus. The facility is scheduled to be completed by the end of this year.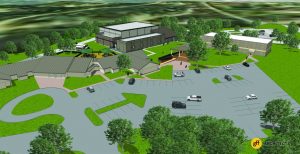 The project is being built to the 2015 International Building Codes, which now requires schools with over 50 students to include a shelter designed to withstand a wind speed of 250 mph, which is in accordance to the International Code Council 500 for the North Texas area.
The event marked an historic time for Coram Deo, which has provided Christian, classical and collaborative education since 1999. This unique University-Model school has approximately 1,200 students across its three Dallas-area campuses.
For more information about the school, visit www.coramdeoacademy.org