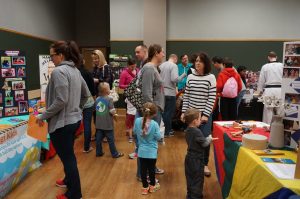 It may be March and families are just coming from Spring Break, but now is the time to think about how to avoid the inevitable: "I'm bored!"
On Saturday, March 25, the Flower Mound Public Library will present its annual Summer Fun Showcase, from 11 a.m. to 2 p.m., at 3030 Broadmoor Lane.
In addition to programs from the Flower Mound Public Library and Flower Mound Community Activity Center (CAC) for town residents, there will be approximately 20 additional businesses and organizations offering academics,
arts & crafts, dance, day camps, gymnastics, sports and other programs to satisfy a list of favorite interests or introduce a new "bucket-list" activity.
"This is a one-shot deal to pick-up pamphlets and information about area summer programs," said Sue Ridnour, director of Library Services. "People can meet approximately 20 vendors and ask specific questions in-person about an activity."
Unfortunately, vendor space was limited, so others who were interested had to be turned away.
"Many of those vendors have provided literature about their summer offerings that we are putting into 'goodie bags,' that we will hand out to attendees at the door," said Ridnour.
There will be an inflatable maze on the library lawn and popcorn and lemonade will be served.
2017 Summer Fun Showcase Exhibitors List:
Actors Conservatory Theatre
Aquakids Swim School
Creative After School Theatre
Dance Reflections
Emler Swim School
Fast Forward Kids
Flower Mound Community Activity Center
Flower Mound Public Library
Flower Mound Taekwondo
Game Truck of Tarrant County
Gasparin Fencing
The Goddard School
i9Sports
Lantana Taekwondo
Mad Science
Miss Heidi's Musikgarten
North Texas Synchronicity
Pinnacle Prep School
Robert Garden Art, Inc
Sacred Ground Dance
Science, Entertainment and Design
Studio B Performing Arts
Write to Shine
Yogi Kids
For more information, contact the Flower Mound Public Library at: www.fmlibrary.net, or call 972-874-6200.