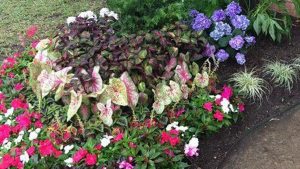 The sun is shining again and the plants are starting to bud. Your neighbor's yard is already looking like the cover of Home & Garden's spring issue, but you can't seem to get your grass green enough or your flower beds full enough to be a serious contender for the neighborhood's coveted "Yard of the Month" sign.
We at Spot On Lawn & Landscape want to share some of our tried and true tips that will ensure your lawn is the best on the block this spring.
5 Tips for Preparing Your Flower Beds for Spring 
Remove weeds and debris from your flower beds. Be careful not to turn the soil too much or you might disturb the pH level and inhibit plant growth.
Apply a layer of compost to add air space to soil and improve the drainage.
Apply a layer of mulch to reduce water frequency and retain moisture.
Select flowers that can tolerate our local climate and determine how much sun your beds receive each day.
Deadhead, or pinch, the spent flowers which will keep the color coming throughout the season.
5 Tips for Preparing Your Lawn for Spring 
Remove debris that has accumulated on the grass which will encourage better airflow throughout the grass, prevent possible disease and insect infestation, and allow new grass blades to grow without struggle.
Apply a pre-emergent crabgrass control in early spring prior to weed seed germination.
Fertilizing provides nutrient build up which will give your turf grass the strength to withstand heat stress and drought throughout the summer months.
Core aeration allows water and air to reach the root zone faster which will result in new growth and increase root development.
Re-sod any damaged turf. Turf repairs must be done early and prior to pre-emergent being applied as the pre-emergent is non-selective and will prevent any seeds from germinating.
Spot On Lawn & Landscape is owned and operated by local Flower Mound resident Travis Duane. Call 844-488-SPOT or visit www.spotonlawn.com.