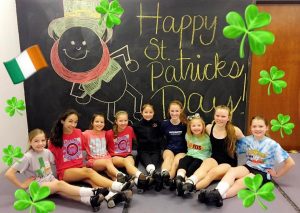 The City of Lewisville will hold the first St. Paddy's in the Plaza event this Saturday, March 18, from 4-10 p.m. at Wayne Ferguson Plaza, 150 W. Church Street, in Old Town Lewisville.
This free event will include music, carnival-type activities for kids ages 4-13 including a 40-foot zip line, food trucks, and a showing of the movie "Pete's Dragon."
Students from the McTeggart Irish Dancers of North Texas (danceirish.org) will perform at 4:30 p.m. The dancers perform at area schools, retirement homes and major cultural events to promote and keep alive the art of traditional Irish dancing.
Seamus Stout, a traditional Celtic group, (facebook.com/seamusstout) will perform at 5 p.m. With or Without U2, the premier U2 Tribute Band in America and beyond (facebook.com/wowu2tribute), takes the stage at 6:15 p.m. The last activity of the day is a showing of the movie "Pete's Dragon" at 7:40 p.m.
Free event parking will be available at Lewisville City Hall and in the public parking lots located on Mill Street, Walters Street, and Kealy Avenue.  No outside food or beverages allowed except for snacks/beverages for small children. Church Street will be closed 10 a.m.–10 p.m. for the event.
Well-behaved pets on a leash are welcome. Wayne Ferguson Plaza features native landscaping, an open lawn, a boardwalk alongside a flowing water feature, a splash pad, and a permanent stage.