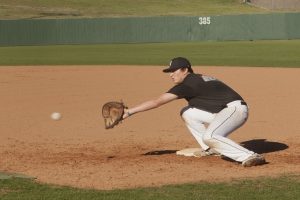 Wilfrid Sheed once penned a book called "Baseball and Lesser Sports," a collection of essays that spotlighted some of the giants of our National Pastime, and also offered some thoughts and reflections upon, well, lesser sports.
There is something special about the sport of baseball that makes most of us nostalgic. And, now that spring is just around the corner, it will not be long before Tuesday and Friday nights are spent at the diamond.
Local fans should have a lot to cheer about this year, with three of the five teams in southern Denton County reaching the postseason in 2016; and, Argyle coach Ricky Griffin is excited about what his team is capable of in 2017.
"Things are shaping up good," Griffin said. "We have lots of returning players."
The Eagles were regional finalists in the 2016 season, winning the district 9-4A championship and defeating Melissa, Sanger and North Lamar, before losing to Pleasant Grove in the regional finals.
Argyle returns P/1B Connor Mushinski, OF/P Dillon Carter, P Brett Lundy and IF Brendan Dixon to help lead the way this season.
Griffin said he anticipates Decatur, Bridgeport and Sanger as being his team's most difficult opponents this season. He said to repeat on the kind of success the team enjoyed last year, it will come down to one thing.
"We have to focus on getting better each week," Griffin said.
Up at Guyer High School, coach Pat Watson said that he has also been impressed with what he has seen early on.
"Things have been going good," Watson said. "Our entire approach has changed and through three scrimmages, I have seen an improvement in abilities and attitude from the fall.  We have a good returning nucleus of players and we also have guys who pitched last year coming back as well."
Guyer missed the playoffs in 2016, but are looking to rebound this season led by pitcher Cade Branum and outfielder Connor Herriage.
Watson said the most important thing to him is to get his players on board with his system.
"The biggest challenge has been getting the kids to buy in to a new philosophy," Watson said. "We have been preaching that being average is not good enough and we have set the bar high. So far this spring, the kids have bought into the approach.  We have also changed our offensive philosophy to where we want to put pressure on our opponents by bunting, slashing, running and making things happen offensively, so the defense is never at ease."
In order to have a strong season in 2017 and make a run at the playoffs, Watson said the Wildcats will have to throw opponents off-guard.
"We need to have pitching that can keep hitters off balance," Watson said. "We don't have any 'flame throwers,' so we have been working on developing change-ups with every pitcher so they will have three pitches."
Over in Flower Mound, the Jaguars are looking to pick up where they left off last season; reaching the third round of the playoffs, before losing to Coppell by a score of 1-0.
Coach Danny Wallace said he is feeling good about the way things are shaping up this season for Flower Mound.
"We have several strong returning players from last year," Wallace said.
The team will be led by 3B Lance Russell, P Ryan Stuempfig, SS Carson Bradley, 2B Cade Thomas, CF Zach Mesa and 1B Kyle Landers.
Wallace said he anticipates Southlake Carroll and Marcus as being the Jaguars biggest challenges in district this year and said to have another successful season, it will take one thing in particular.
"We will have to develop depth in our pitching staff," Wallace said.
For Marcus, missing the playoffs in 2016 was a bit of a disappointment, but coach Jeff Sherman said his team is looking to get things back on track this season.
"We are healthy and had a great offseason," he said.
The Marauders return a number of strong players from last year's team, including SS Jimmy Glowenke, P Reed Osborn, P/1B Michael Leaumont, CF Ridge Rogers and P Caden Lopez.
Marcus went 17-12 last season, going 8-8 in district competition and Sherman said there is a lot of parity in district this season.
"I think every team in our district has a chance to beat you," he said. "Every team has pitching and someone in the middle of the lineup."
To have a successful season and reach the playoffs, Sherman said it will take "solid defense and great pitching performances," from his players.
The Liberty Christian baseball team was one game away from the state tournament last season, before coming up just short. Coach Johnny Isom said he is looking forward to getting things going once again.
The Warriors will have a number of younger and inexperienced players this coming season, but Isom said he believes they will adapt to varsity ball in due time.
"I know they will figure it out," Isom said. "They just have to learn the importance of every pitch and every inning. Last year's group figured it out quickly and we think this year's group can do the same. It's going to take some time."
Liberty Christian won a state championship in 2013 and just missed qualifying for state last year, despite losing 14 players to graduation following the 2015 season.
The Warriors will be led by three juniors: centerfielder Kason Howell; shortstop Landon Munday; and, third baseman Corey McMann.
Howell was an all-state selection in 2016.
Isom said that he has reason to be optimistic heading into the season.
"The biggest thing for us, is that I look around and have four varsity coaches," Isom said. "Most head coaches only have two. This is the sixth year where all four of us have been together, and we also have a junior varsity coach who has been with us for three years and a freshman coach who is in his second year.
"What I'm saying is that the consistency is there, so the players come in knowing what to expect. "They don't know anything different, and they work so hard that when it's time for them to get in and play, they do extremely well."