The Flower Mound Police Department on Thursday officially recognized 10-years of service by the 38 members of Flower Mound's Citizens Public Safety Patrol.
The volunteers and the officers who support and work with the volunteer group gathered in the police department's Community Room for camaraderie, plus cake and punch.
In his address to the Citizens Public Safety Patrol members, Wess Griffin, captain of the Flower Mound Police Department's Special Services Division and Citizens Public Safety Patrol coordinator, noted: "You do so much. You help with all kinds of special events, including football games, parades, the Veterans Day Run, fleet maintenance, road closures, tow truck situations and crime prevention. You guys are so important. The town administration has come back consistently to fund this program."
Flower Mound Police Chief Andy Kancel dittoed Griffin's praise, saying, "We couldn't do what we do without the support of our volunteers. I have been here three years and have never seen so much community involvement. You don't get paid and it is not easy to be part of a police department. That's a beautiful act. From the bottom of my heart, thanks so much. Let us know what you need. Please know you are valuable to the community and to us."
Griffin explained that the Citizens Public Safety Patrol, which began in 2007 as an offshoot of the police department's volunteer program, freed up police officers from routine tasks.
One of those routine tasks was waiting for tow trucks after accidents or breakdowns.
"It used to be that we had to allot officers to wait for tow trucks and officers would have to be pulled off the street," said Griffin. "Now, volunteers can handle that."
Another important activity of the citizens patrol is their assistance with educational programs. Griffin said members help with the police department's open house, National Night Out, the inspection of child safety seats, and home security inspections.
"Again, this is engagement in activities that frees up police," said Griffin.
During his presentation, Griffin stated that citizens patrol volunteers contribute fifty-percent of the total volunteer hours.
Since the creation of the citizens patrol, Griffin said its volunteers have logged in 32,003-hours from 2008 through now. The over 32,000 unpaid volunteer hours are equivalent to a million dollars, thereby constituting a huge savings for the town of Flower Mound.
Griffin said the citizens patrol has a truck, a trailer, a golf cart and two cars at its disposal; and, was excited to report that soon four bicycles will be added to the citizens patrol's transportation methods.
Carol Peterman said she served on the Citizens Public Safety Patrol for five years.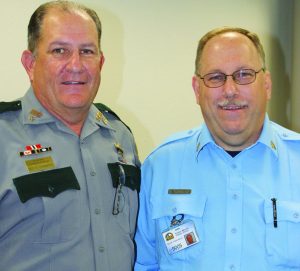 "I took the CPA class of the Citizens Police Academy and found it interesting," she said. "The Citizens Public Safety Patrol recruited from that and eventually I joined. Now, I'm a volunteer and do desk duty in the police department."
Patrol member Russ Cisek said: "We have a great partnership with the police department. We greatly appreciate what they do for the town and we feel honored to assist them with their work."
Scott Townsend, volunteer sergeant of the citizens patrol, said: "I'm one of the 18 charter members. I got involved through CERT, the Community Emergency Response Team. My friend Don Chambers began the Police Volunteer Program. What we quickly found, was that unlike the outstanding professionals, we weren't good at finding crime, but we could relieve officers from routine tasks."
Townsend explained that the Citizens Public Safety Patrol makes it easy for residents to volunteer, since the organization doesn't demand that volunteers come in at certain times. Volunteers have access to flashlights, radios and computers necessary to perform their duties.
"We stay within the guidelines the police department sets for us," said Townsend.
In special circumstances, the citizens patrol can provide needed manpower to the police department.
"If a person is missing, we can muster out 20 to 25 members to help search for the missing individual." said Townsend. "While not everyone in the Citizens Public Safety Patrol is certified in CPR, they do know where officers keep their bags so they may help first responders in trauma cases."
Founding member Don Chambers traveled all the way from Florida to attend the event.
He spoke about the group's beginnings, saying: "We had five people on a committee. Adding volunteers to a police department was not easy. It takes a long time as people are professionally suspicious. But, volunteer groups have been shown to be essential as they create a bridge to the community."
If you are interested in joining the Citizens Public Safety Patrol, contact Wess Griffin at 972-539-0525.