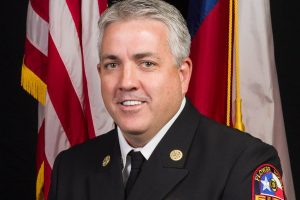 by Eric Greaser, Flower Mound Fire Chief
The Flower Mound Fire Department coordinated a planned/controlled burn of a portion of The Flower Mound on Thursday morning. More specifically, the burn took place on the southern two-thirds of The Mound.
For years, the wildflower growth has been hampered by the invasive plant species that have overtaken The Flower Mound. The prescribed burn, done with the support of The Flower Mound Foundation, encourages native plant species to grow that previously could not receive enough sunlight, provide better habitat for native wildlife, and protect The Flower Mound's biodiversity. Better yet, by dividing The Mound into sections, we can conduct smaller prescribed burns over the next two years while still providing a safe haven for the wildlife that calls The Flower Mound home.
The burn also supports the goals of our "Ready, Set, Go" program and the wildland-urban interface. The Ready, Set, Go program seeks to increase awareness of potential high-risk wildfire conditions, such as the significant plant overgrowth on The Flower Mound, and to take measures to reduce those conditions. The wildland-urban interface refers to the zone of transition between unoccupied land and human development, which has the potential for a wildfire that can be reduced through prescribed burns such as this.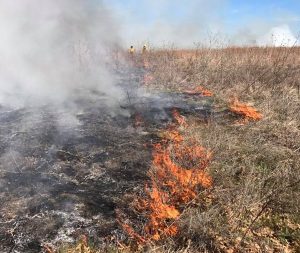 Prior to the prescribed burn, fire personnel went door-to-door to communicate the plan of action for the Flower Mound as well as to help educate neighboring residents and businesses on what they can do on their personal property to reduce the risk of wildfires when they live near an area that has the potential for a wildfire. These tips can apply to all residents, especially those living near green belts, and include:
Clean roofs and gutters of dead leaves, debris that could catch embers.
Replace or repair any loose or missing shingles or roof tiles to prevent ember penetration.
Enclose under-eave and soffit vents or screen with metal mesh to prevent ember entry.
Cover exterior attic vents with metal wire mesh no larger than 1/8 inch to prevent sparks from entering the home.
Repair or replace damaged or loose window screens and any broken windows.
Screen or box-in areas below patios and decks with wire mesh to prevent debris and combustible materials from accumulating.
Move any flammable material away from wall exteriors – mulch, flammable plants, leaves and needles, firewood piles – anything that can burn.
Remove anything stored underneath decks.
By taking the above measures and creating a defensible space, or a buffer between a building on your property and the grass, trees, shrubs, or any wildland area that surrounds it, you can help prevent fires from quickly spreading into a structure. This space is needed to slow or stop the spread of wildfire and it protects your home from catching fire—either from direct flame contact or radiant heat. Defensible space is also important for the protection of the firefighters defending your home and provides better options for firefighters when battling a wildfire.
The probability of wildfire activity is at an increased level January through March for our area due to typically dry weather and frequent windy conditions. By taking action on the invasive plants that have been thriving on The Flower Mound, we can reduce the wildfire risk to area homes and businesses.
Many of our firefighters have extensive prescribed fire training through the U.S. Forest Service at the Lyndon B. Johnson National Grasslands. During this training, firefighters learn how to read the weather conditions, topography, and types and moisture levels of vegetation.  Firefighters also learn how a wildfire travels, crucial whether the goal is to suppress the fire or utilize it such as in a prescribed burn.
In fact, Flower Mound is part of the Texas Intrastate Fire Mutual Aid System, meaning our department operates a brush truck on behalf of the state that can be utilized in Flower Mound and throughout the state as an asset in times of need. In addition, members of the department have been deployed multiple times to help battle significant grass fires around the state.
Anytime a prescribed burn takes place, the Flower Mound Fire Department has numerous firefighters on-hand to create a tremendous fire suppression force, out of an abundance of caution.  Fire officials also created a burn plans for prescribed fire. Burn plans identify – or prescribe – the best conditions under which plants will burn to get the best results safely. Burn plans consider temperature, humidity, wind, moisture of the vegetation, and conditions for the dispersal of smoke. Trigger points are also written into the plan that would halt the prescribed burn, such as windy conditions.
Like you, I look forward to seeing the healthy regrowth of wildflowers on The Flower Mound, our community's namesake and most significant landmark.
See more photos of the controlled burn here.