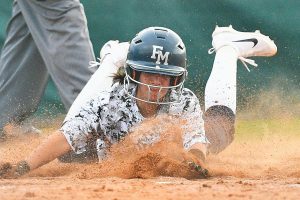 Softball's surge in popularity over the last few decades is great news for young female athletes around the country; and, southern Denton County is certainly no exception.
Local softball programs are routinely among some of the best in the state and the 2017 campaign promises to be another great year for the region.
The Argyle softball team finished fifth in district last season, missing the playoffs by one game. Coach Kevin Cook said his team is hoping to turn the corner in 2017.
"We're getting off to a good start," Cook said. "We have six returning starters with three returning seniors."
The Eagles will be led by P /1B/OF Tori Burke, last season's District Utility Player of the Year, as well as Callye Leenhouts and Heather Atckinson, both three-year varsity players.
"We have a chance to be really improved this year," Cook said.
He also expects strong seasons from Marley Straubmueller, Kate Repp, Sarah Oellermann (first team All -District) Lauren Krauss, plus new additions sophomore Samantha Arings, freshmen Lanie Rodgers and Abby Williams.
Cook said he anticipates that Krum, the reigning district champions, to be the team to beat this season and said to have a strong season– and make a run at the playoffs– the Lady Eagles will need two things.
"We will need to improve our pitching and defense in order to compete for the playoffs," Cook said.
Up the road at Guyer, the Lady Wildcats are coming off a 24-6-1 season, in which they qualified for the playoffs, reaching the bi-district round.
Guyer advanced to the regional quarterfinals each of the previous two seasons prior to the 2016 campaign and are looking to make another good playoff run this season.
The Lady Wildcats should be led by Olivia Boisen, Grace Wills and Megan O'Boyle this year.
Over at Flower Mound, the Lady Jaguars are coming off a 13-3 district campaign in 2016, losing to Keller Timber Creek in the bi-district round of the playoffs.
Coach Mark Larriba said he is excited about the 2017 season and said that he has been pleased with the level of enthusiasm his team has exhibited so far.
"This season is a lot of fun," Larriba said. "This team is young, which creates a lot of learning and growing opportunities, while also bringing so much energy to the field every day. We have worked all off-season on strengthening our strengths, and the girls have really bought into what we want to accomplish this year, fully knowing that we are stronger together than individually."
Larriba said he has some talented players returning this season, as well.
"Grace Meador is an outfielder for us who has been on varsity since her freshman year," he said. "She's quick and has a lot of leadership with this team. Megan Lesko is another junior who has been on varsity since her freshman year. She was behind Sydney Springfield the last two years, but she always proved to be a competitor for us.
"Kendall Jennings is our returning sophomore shortstop that has taken our team to the next level with her high softball IQ, passion for the game and energy on the field. Bailey Brenek is our sophomore catcher who did an outstanding job for us as a freshman. She has really taken control and embraced that leadership role."
Larriba said his team will have to put in a lot of effort in order to have another good year.
"We will need to work extremely hard on making our strengths stronger than they have ever been, continue to improve on being mentally tough and fully understanding the importance of team," Larriba said. "We will need to get better every game and continue to grow our softball IQ."
For the Marcus softball team, a 15-12-1 season in 2016 was decent, but finishing fifth overall in district with a 7-9 mark was not what the Lady Marauders are accustomed to.
Coach Christy Tumilty said that things are shaping up well for this season and her team has a solid core of veteran players.
"We have 13 returning varsity players and seven seniors who are providing excellent leadership and vision for our team this year," Tumilty said.
The Lady Marauders are led by SS Billie McFadyen, 2B/OF Ashlyn Lerma, C Kendra Hess and P Ally Lindsey this season.
"Our district will always be tough because we will always have Lewisville, Flower Mound and Hebron to contend with," Tumilty said. "Adding in Byron Nelson, LD Bell and Southlake along with Trinity will make for a tough district schedule.  I think our biggest challenges will be our LISD foes, as well as Byron Nelson and LD Bell."
To get back to the playoffs in 2017, Tumilty said it will involve two facets of the game in particular.
"We will need strong pitching and great offensive production every district game to keep us in the top four of our district," Tumilty said. "We will then continue with this into the playoffs for a long run."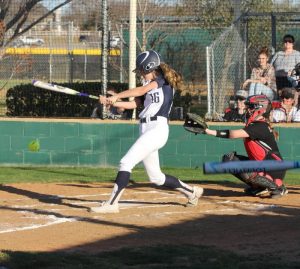 Liberty Christian reached the bi-district round of the playoffs in 2015 and 2016 and is looking to get back in 2017.
The list of opponents includes Plano Prestonwood, Bishop Lynch, Bishop Dunne, Trinity Christian Addison, Ursuline Academy, Nolan, and Plano John Paul II. Liberty will play everyone twice in district play.
"Several of those teams have a lot of things going well for them. But my attitude is, we play to win," said coach Alex Smith. "These girls know they have the ability. They are eager, and that confidence on the field will set the tone."
That unwavering confidence is refreshing given how thin and young Smith's roster is. The Lady Warriors only have 12 players on the varsity roster, and not a single senior. But this year's group is chock full of talented players who also play select-level softball and were on Liberty's varsity team a year ago.
Leading the charge is sophomore starting pitcher Gracie Arthur. The Lady Warriors expect to back up Arthur with a pinpoint defense.
Utility player Taylor Scalzi, a junior, can play first base, third base, and outfield. Ainsley Cindric, a sophomore, will step in at second base, while freshman Taylor Skaggs can play both catcher and third base. Freshman Hannah Taylor and sophomore Meredith Gordon will be in the outfield. Peyton Wohnoutka returns as the team's starting catcher.
"It's a solid looking group," Smith said. "We had a bunch of injuries last year, and several of those girls are no longer on the team. But the new talent we have in here are filling those gaps. We have some power on offense, but we're emphasizing playing strong defense this year. We believe that's going to win us the most games."