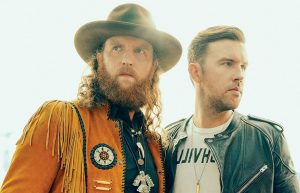 The Town of Flower Mound announced two-time Grammy nominated country duo, Brothers Osborne, will be the 2017 Independence Fest headliner.
The siblings are carving their own path in country music, calling their style "an old-school rock approach," pulling from influences like the Allman Brothers.
Perfecting their sound while touring with big names like Eric Church, Little Big Town, and Miranda Lambert, Brothers Osborne continues to climb the country charts with songs like "Stay a Little Longer", "Rum", "21 Summer", and "It Ain't My Fault".
Independence Fest 2017 is Tuesday, July 4, and will continue to build on the success of previous years with a full day of fun for residents of all ages.
The Town is currently accepting applications for vendors and sponsors, which can be found online, along with full event details, at www.flower-mound.com/festival.
Last year, Independence Fest drew a crowd of more than 25,000 people, with attractions including the popular children's parade, a vintage car show, delicious food, hours of live entertainment, all capped off with an impressive fireworks show. All of the events are free of charge.