Copper Canyon and CoServ again host 6th Annual Denton County Mayors Crime Prevention Luncheon – Feature Speaker  F.B.I.  Special Agent Rick Burkhead Presenting  "First Responders:  Current Morale and Recruiting Trends."
Copper Canyon is very grateful to CoServ for again funding the 6th Annual Denton County Mayors Crime Prevention Luncheon on Jan. 18.  And our special thanks to Tracee Elrod for expediting the arrangements with CoServ. Previously we hosted the luncheon in our Town Hall.  But, the Event has become so well attended by Denton County Mayors, County Commissioners, Police Chiefs, our Sheriff and his SO Staff, and legislators that the event outgrew the space available in our Council Chambers – and our limited parking area. So, this year we again hosted the luncheon at Briarwood Retreat's new Conference Center on Copper Canyon Road.  Attendance is by private invitation to Elected Officials and First Responders and is not open to the public.
CoServ Charitable Grants in Denton County 2004 through 2016 = $5,631,112
CoServ's Charitable Foundation often provides grants that benefit Denton County's "First Responders"!  For Fire and Police Departments CoServ provides funds for special equipment such as medical devices for ambulances, breathing apparatus for firefighters, and radios and body armor for police. CoServ also funds grants to educational foundations for schools and child protective service providers such as Children's Advocacy Centers, CASA, and Friends of the Family.  For the year 2016 alone, CoServ Foundation grants totaled $1,031,434!
This year CoServ's CEO Donnie Clary personally welcomed all guests.  He thanked the elected officials present for the hours they contribute to good government.  He thanked all First Responders attending for their individual dedication to the safety of not only their own communities but also of neighboring areas.  "Mutual Aid" is a bedrock principal for law enforcement, emergency medical crews, firefighters, and even 911 dispatchers.  No one team can have all the personnel, equipment, and specialized vehicles necessary for a major emergency.  Thus each First Responder team goes to back up another team-in-need with SWAT teams, ambulances, fire engines, 911emergency call answerers, etc.
CoServ's Board and Staff were well represented this year led by CEO Donnie Clary, District 6 Board Director Bill Ragsdale, District 7 Board Director Curtis Talley, Area Manager Tracee Elrod (who is also a Council Member in Hickory Creek), Director of Community Relations for Grants #1 Vicki Sargent, Community Relations Specialist for Grants #2 Jennifer Ebert, Community Relations Specialist Alphonso Williams, and Representative Dawn Cobb.
Sincere Thank you by Little Elm Mayor David Hillock to "Officers in Blue"
In Denton County we tend to believe we are insulated from the recent senseless violence of the Dallas massacre of law enforcement officers.  But just the day before our Crime Luncheon a Little Elm detective was shot to death.  Mayor David Hillock said he HAD to come to the meeting to personally thank all the "Officers in Blue" who had responded to Little Elm's emergency.  It was not an easy task for him.  The emotion in his voice was witness to that.
Mayor Hillock wanted to thank the surrounding police departments and especially the Sheriff's Office who had all come to help Little Elm.  He was especially moved by the officers who came to the Denton Hospital to comfort each other while waiting for news of Detective Jerry Walker.  And, when the tragic news came of the end of Detective Walker's life, the long caravan of officers who escorted their fallen officer on his last trip.
Jerry Walker was an 18 year veteran of law enforcement.  He had served in Little Elm's schools and was currently on Little Elm's SWAT team. He leaves four children, ages 22 months to 20 years old.  How incredibly sad that the youngest child will not be able to personally remember its Dad.
Comments by Mayors and Police Chiefs during the Crime Luncheon:
Highland Village Mayor Charlotte Wilcox:  "The information from the FBI and the question and answer session with local authorities provided important talking points we could all take back to our respective cities and towns to confirm that our officers feel valued and appreciated.  Morale is extremely important in all departments, especially after the hard year (s) public safety has had to endure.
This was a tough meeting, as Denton County had just lost one of our own.  I appreciated Mayor Hillock of Little Elm stopping by and expressing his gratitude for the support from all the Denton County public safety departments the evening before.  It reaffirms that Denton County is a family and we all pull together."
Flower Mound Police Chief Andy Kancel:  "In a society, things get done by our communities working together for a common goal and purpose.  'Bravery' is usually one act in a single emergency.  It takes 'Courage' to be a police officer in this day and age – to make the right decisions professionally and to also commit to the right priorities in our personal life.  I came here from a neighboring county.  Denton County is unique in the willingness and commitment of elected officials and law enforcement personnel to work together for the benefit of all our communities."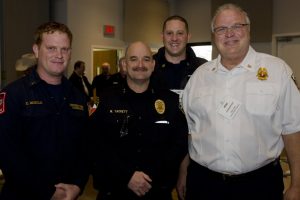 Argyle Police Chief William Tackett:  "In a small police department, officers have to function with minimal supervision and be responsive to both residents' needs and people who are simply traveling through our community.  We need to hire officers with the required skills AND the right temperament.  Past performance is a predictor of future behavior.  If you hire the wrong people, your town will absolutely pay for that later."
NOTE:  I couldn't agree more.  For six years, as City Attorney I was the legal advisor to the Police Department of a Town of 18,000 population.  Any police department can have its community trust diminished to the lowest common denominator of one "bad apple."  If your Town's choice is operating understaffed – or hiring a "questionable" officer – always choose to run understaffed.
Suggestions for next year's Mayors Crime Prevention Luncheon:
Best Practices of Area Police Departments – both large and small departments.
Vendors Booths – for body cameras, etc. NOT a presentation and sales pitch, but booths that Mayors and Chiefs could elect to approach.
Update from Sheriff's Office – Accomplishments of first year of new administration and challenges to be addressed.
Current Construction Schedule for Chinn Chapel Road and Woodland Drive
Anticipated to begin week of Feb 20th.
Phase I:  80 calendar days of construction, completed May 2017.
Chinn Chapel – From East Jernigan north to Woodland Drive.
Complete closure, but residents along this section will have access to their homes during construction.
Woodland Drive – From concrete portion of Copper Woods east to
East Woodglen.  South side of Woodland Drive closed first, then north side.  Westbound traffic allowed at all times.
Phase II:  150 calendar days of construction, completed October 2017.
Chinn Chapel – From Woodland Drive to 1,100 feet north of Railroad.
Complete closure.  Only residents on this section can access homes.
Woodland Drive – From East Woodglen to Chinn Chapel. South side of Woodland closed first, then north side. Westbound traffic allowed at all times.
Phase III:  120 calendar days of construction, completed February 2018.
Chinn Chapel – From Harlington to East Jernigan. Complete closure, except residents in this section can access their homes.
Town Website – www.coppercanyontx.com
Updates to road schedule and detour routes posted on website and at Town Hall, so residents can plan their route during successive phases of construction.
Road construction is always stressful to our residents.  Thus the successive phases of rebuilding to try to limit the time each section of homeowners has to cope with the direct impact of the noise and travel dislocation of road construction.  The complete closure of Chinn Chapel (except to homeowners in each section) is to greatly speed up the road rebuilding process.  The goal is complete rebuilding of Woodland by October and Chinn Chapel in 10 months at the best – and 12 months at the worst.  But the usual caveat – weather and unexpected circumstances excepted.
Argyle Fire District Switches from Code Red to Everbridge to Provide Mass Communication of Urgent Emergency Events
Effective immediately it will be necessary for individuals who live in Argyle, Bartonville, Copper Canyon, Corral City, Lantana, Northlake, and unincorporated county areas served by AFD such as Canyon Oaks – and who wish to receive emergency alerts – to sign up under the new provider by visiting www.argylefire.com and clicking on the "Sign Up Today" link under the Everbridge section.  (Current Code Red data will be deleted and not imported into the new Everbridge system.)
This new service will continue to provide timely notifications via Phone, Text, E-Mail, and TTY.  A single account can input multiple addresses (street and email) and devices (landlines, cell phones, pagers) for geographically important warnings.  Everbridge can also provide subscription based weather notifications sent automatically from the National Weather Service – again, on a geographically based relevance.  (I.e. Copper Canyon residents will NOT receive notice of a tornado touch down in Northlake – unless the storm is expected to reach us.)
Argyle Fire District provides only emergency notifications that require an urgent action to be taken.  AFD does not send general announcements, political messages, advertisements, and will never sell your information or perform telemarketing activities.
If you do not have access to a computer, many public libraries have computers and staff to help you navigate the Everbridge registration website.  Or call the Argyle Fire Administration office at 940-464-7102 or email [email protected]
$5,000 in donated College Scholarships – Applications available now at Town Hall for Town Seniors.  Please help us identify all graduating Seniors to Invite to Senior Celebration Event Sunday, April 23rd at Town Hall!
Scholarship funds were provided for several years from sales of the Copper Canyon Cookbook, whose publication was funded by donations.  Current scholarships are funded by donations from Copper Canyon residents and vendors to the Town.  Donors will be identified and thanked when the scholarship winners are announced in April.
There are only three basic qualifications to apply for the College Scholarships:  (1) the applicant must live primarily in Copper Canyon; (2) the senior must be graduating this spring; and (3) the senior must have already been accepted to a college or recognized technical institute.  The scholarships, ranging in amounts from $500 to $2,000, will be paid directly to the college to apply to the recipient's tuition.  Completed applications are due at Town Hall by 3 p.m. Friday March 31st.
Judges consist of both Copper Canyon residents and non-Town residents.  The judging is "blind."  Applicants do not know the identity of the judges.  The judges receive the applications with identifying names, addresses, and personal information redacted.
Copper Canyon's  graduating seniors have primarily come from Lewisville ISD's Marcus High School , Denton ISD's Guyer High School,  Liberty Christian Academy in Argyle, are "home schooled" , and several have attended Corum Deo Academy in Flower Mound, and  Lakeland Christian Academy in Lewisville.
High schools are understandably legally reluctant to release the names of graduating seniors and their addresses for security and privacy reasons.  So, our Town relies heavily on our residents to tell Town Hall who our graduating seniors are.  (Email [email protected] or call 940-241-2677 Ext #2.)
Donations also provide a $100 scholarship to each graduating senior who doesn't apply for a competitive CC college scholarship.  Each student also receives a full size Texas flag with a certificate in their name certifying that the flag actually flew over our capitol in Austin.  The certificates are complimentary from our Texas Legislature Representative Tan Parker and his District Director Patricia Robinson.
The senior is welcome to invite parents, siblings, even grandparents to attend the April 23rd Senior Celebration.  Our Council Member Bill Castleman, a professional photographer, volunteers to take photos of the senior graduate solo and also with attending family members.  Castleman's photographs are outstanding!  And he graciously provides digital copies of the photos gratis to each graduating senior.
James P. Mariades, Marine Colonel and longtime Town resident, dies at 95.
Jim Mariades and wife Nellie Mariades moved to Copper Canyon on Pilot Lane in 1987.  I first met Jim in 2008 at the Town's 35th Birthday Party.  His wife Nellie was already in a nursing home with Alzheimer's.  But Jim went to the nursing home every day at 3 to walk with Nellie and to feed her dinner every day at 4:30 p.m.  He told me they had been married 62 years at that time, and she was "the best gal I ever had!"
Jim ran every day in the early morning hours with fellow Pilot Knoll Estates neighbor Butch Mallam. Butch said he would decide NOT to run in the rain, but then Jim would knock on his door "in his rain gear" and say "Come on!"  Jim began to have physical problems with his legs and could not run.  So, Butch said "Let's just walk each day together – but call it 'running.' "   They did. But then Jim had to have triple heart bypass surgery.
Jim was born January 27, 1921 in Pittsburgh, PA. and graduated from the University of Pittsburgh.  Jim entered the Marines as an enlisted man, and then was commissioned as an officer.  He retired after 30 years in the Marines at the rank of colonel.
In World War II, he was in the second wave to hit the Iwo Jima beaches.  He was wounded after 10 days and that ended his active fighting in that war.  Both of Jim's calves were injured and he was not expected to walk again.  But he did.  In Korea, Jim was among the Marines called the "chosen frozen" or "The Chosen Few".  These were the marines evacuated from the Chosan Reservoir.  One of Jim's feet was frozen in that battle.  But after the Korean War, Jim also served in Viet Nam.
He was the owner of Manpower Labor Force in Dallas for 30 years.  He was also a longtime member of Holy Trinity Greek Orthodox Church in Carrolton, the AHEPA Organization, and the Flower Mound Rotary.  He was affectionately known as "The Colonel" to everyone.
He is preceded in death by his beloved wife Nellie K. Mariedes.  He is survived by his daughters Tina M. Mariades, Paulette J. Mariades, Karen McManus, and Diane Green and his grandson Justin McManus.
Did You Know That?
Obsolete Federal IT Systems: Of the $80 billion or so spent yearly on federal IT, three-fourths goes to the upkeep of outdated systems, leaving a small and shrinking budget for upgrades….An overhaul of the world's largest IT system will drag on for years, with changes coming slowly for Uncle Sam's complex and insecure digital network…How dire is the state of federal IT? The U.S. nuclear arsenal uses floppy disks and tax data runs on top of 1950s code."  (The Kiplinger Letter, 1/6/2017.)
Self-Driving Cars: "There are 1.25 million road deaths a year globally. Human error is the cause of 94 percent of roadway fatalities, U.S. safety regulators say.  Robot drivers never get drunk, sleepy, or distracted."
(Keith Naughton, Bloomberg News, Dallas Morning News 12/18/2016.)
Medical Error is the 3rd Leading Cause of Death in the US:
More than 250,000 people die each year due to medical errors.  Only heart disease and cancer cause more deaths annually.   (Analysis of studies of medical death rate from 2000 through 2008 by researchers at the John Hopkins University School of Medicine, Baltimore, published in BMJ.)
Coyotes: "Coyotes do not like light. By lighting up a chicken coop or yard area where small pets are kept, coyotes will likely stay away.  Also, noise that is foreign to them will deter them.  Have a radio on outside a barn or coop area.  Fences do not deter them, as coyotes can easily leap a 6 foot tall fence.  Coyotes are not a threat to people.  Scare one off by clapping hands and shouting.
Their intelligence makes them almost impossible to live-trap.  And leg-traps are illegal to use.  So, keep small pets in at night.  Put trash out in the morning instead of at night, remove any pet food sources at night."
(Brian Hall, the Animal Guy.)
[NOTE: We have a local possum and raccoon who regularly stroll past our back door at night to see if there are any leftovers from the food bowls of our adopted cats.]