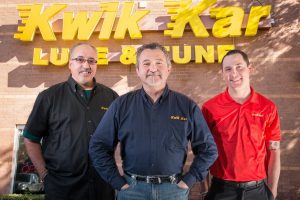 by Albert Gutierrez, Operations Manager, Kwik Kar Flower Mound
Most of us like pleasant surprises that are well thought out. However, many of the surprises that happen in life are just the opposite. They task us unexpectedly with time and effort wasted on things like rushing to change clothes again because of spilled coffee, or with doling out money for a tow-truck to rescue our vehicle – minus one timing belt – from a busy highway.
Corrective maintenance for your vehicle is sometimes inevitable, but there are many serious car problems that are avoidable with a well thought out preventative maintenance plan. This type of plan can save you from not only a future headache, but also from wasting time and money on higher repair costs that could have been bypassed altogether.
At Kwik Kar, we have done the thinking and planning for you. When you become a customer, we will discuss with you the recommended intervals to have your car brought in for your routine oil change which includes our Premium Preventative Maintenance Program.
We take into account all the data necessary including the amount of use your vehicle gets monthly, as well as the driving conditions you undergo day in and day out. Here in the DFW Metroplex, the stop-and-go traffic and high temperatures put your vehicle's driving conditions in the "severe" category, so your preventative maintenance schedule will address those concerns.
During your scheduled maintenance, we don't limit your experience to just an oil change. Instead, we take your car through our 19-point inspection that includes (but is not limited to):
A complete oil change, new oil filter, and up to 5 quarts of oil
Checking all other fluids including transmission, anti-freeze, and washer
Lubricating the chassis if applicable
Checking all air filters and the air induction system
Assessing all belts, wipers and checking the tire pressure
By putting a little effort into bringing your vehicle to Kwik Kar for our preventative maintenance program, you may avoid the time-consuming effort and expenditure of fixing the unpleasant surprise of a roadside breakdown. We prefer you rest easy knowing your vehicle is dependable and up-to-date on all scheduled maintenance and inspections. In the long run, this can help improve your vehicle's longevity, fuel consumption, and safe operation – now isn't that a pleasant surprise!