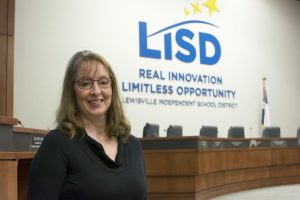 After watching Gov. Greg Abbott's State of the State address, Kristi Hassett said she was mad.
"Gov. Abbott was giving kudos to charter schools and saying what a good job they were doing but doesn't address the 53 million students within the state who are in public schools," she said. "Charter school [students] are only 10 percent of Texas students and 53 million students deserve part of Gov. Abbott's time and energy and effort. They are his students, and I get frustrated when they're not looked at on the same level."
Hassett is a trustee on Lewisville ISD School Board and currently serves as the board secretary. She is running for re-election to Place 6 on the board because she said she wants to continue to be a voice for and advocate of the students. The election is on May 6.
"I want the best for these kids and I see a lot of outside forces working against districts and therefore our students," Hassett, 46, said. "I'm just not willing to not run. I have a heart for the students and I want to make sure that we're doing the best things for those students."
Hassett has a degree in strategic management from the University of North Texas and said she has a plethora of experience in project management from her previous jobs. She is now a stay-at-home mom and has been for 17 years.
She is a member of the Flower Mound Parent Teacher Student Association, the Council of PTAs and Flower Mound High School's Golf Booster Club.
Read more from The Lewisville Texan Journal.