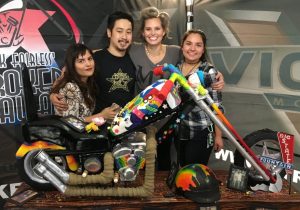 The Jenny Layne Bakery is well-known, beyond the confines of its Argyle location, as a destination for premiere traditional and custom-designed wedding cakes. That reputation is about to go from regional to national– even internationally– thanks to Wednesday's episode of the "Cake Hunters" show on the Cooking Channel.
"It was such a surprise," said bakery owner Jenny Lane Murdoch Fallis. "I received an email from the producers of 'Cake Hunters' saying they'd heard about my bakery and asked if I'd be interested in competing against two other Dallas-area bakeries to appear on an episode."
Without hesitation, she accepted the episode's challenge to create a five-foot long "chopper" cake to celebrate the 20th anniversary of Rick Fairless' Strokers Dallas, the largest custom motorcycle store in America.
Her confidence can be traced back to her childhood.
"I always baked with my grandma when I was little and all through school," she said. "I'd make cakes for my friends as their present for birthdays. And, I went to Texas Tech and graduated in 2008 with a degree in Business Management with an emphasis in Entrepreneurship and worked in Aunt Norie's bakery in Lubbock. I learned how to bake everything from cupcakes and brownies and cookies, to birthday and wedding cakes and pies … well, anything that goes into an oven."
While in college, she'd written a business plan and proposal to open her own bakery in the future. Following her graduation, she'd been hired by a company, but the economy was collapsing and that job offer disappeared via a 2008 hiring freeze.
She moved in with her mother and started her own home-based business making cakes and other baked items in her mother's apartment. Everyone, including her mother, told Fallis she should find any job and put her drive to bake on hold.
"Everyone thought I was nuts to focus on baking, but when my mom saw my first wedding cake, she said: 'Go ahead,'" Fallis said. "In 2011, I made 12 wedding cakes in the month of October; it was crazy."
The following Valentine's Day, Feb. 14, 2012, the Jenny Layne Bakery opened its doors in the Robertson's Creek Plaza on Long Prairie Road in Flower Mound. Over the next five years, Murdoch's hard work earned numerous "Best Bakery" designations in area publications and the staff grew to five.
"When I was at Aunt Norie's, I'd become fascinated in using the medium of icing to sculpt designs for cakes and other materials to make 'edible art,'" she said. "We're the only commercial bakery in the area to create custom-designed 'edible art.'"
Given her credentials and the success of Jenny Layne Bakery, the challenge of designing a five-foot-long "chopper" cake was a creative treat—no pun intended.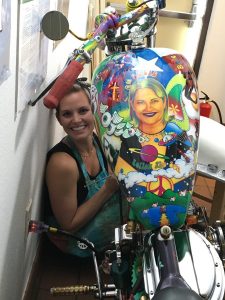 After seeing her sample "chopper" cake parts—the "leather" seat, chocolate handlebar grips and a psychedelic-style hand-painted gas tank—Fairless chose Fallis to make the 20th Anniversary cake; and, the winner of the "Cake Hunters" episode.
"The filming was done in October [2016] and it took five days to make the five-foot bike," said Fallis. "We closed the store and my assistant, Antonio, and I worked for about 80-hours on it. I'd be in the bakery from 8 a.m. to 1 a.m. the next morning. Toward the end, the staff was working around the clock.
"We had to 'hang' the cake on a metal pole that ran through the 'tires' (made from Rice Krispies) and work in a real headlight and other parts. It ended up weighing over 250-pounds and we used a toy chest lid as a transportation base. I actually had to go to Lowe's and buy real metal handles for the base to lift it into my van."
Fallis said the most stressful part of any job is the delivery.
"The trick is to just keep things steady," she said. "You have to watch what all the other drivers around you are doing. I leave four car lengths in front of me. The last thing you want to do is slam on the brakes."
The Flower Mound native and her husband, graphic designer Mark Fallis, married on Nov. 1, 2014, and are both committed to share her success with their hometown. "Marrying him and opening my bakery are the two best decisions I ever made," Fallis said.
"As a graduate of Flower Mound High [School], I really enjoy going back to be a speaker and show the kids that you don't need to leave your home to be successful," said Fallis. "I've gone back and taught the kids in the Health Science Department how to make cakes; it's been fun."
The producers of "Cake Hunters" were so impressed with the result of her first challenge, they've already booked her for a second appearance. The date, the challenge and air date are yet to be finalized.
The Jenny Layne Bakery is now located at 815 Stonecrest Road in Argyle. Call 972.691.2253. For more information, visit: www.jennylaynebakery.com.