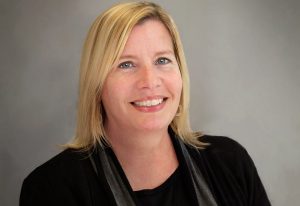 by Janet Laminack, Denton County Extension Agent-Horticulture
What is a watershed? You may have heard that term before but may not actually know what it is. A watershed is the area of land where the rain and runoff flow to a lake, river or recharge an aquifer. That means that watersheds are the origination points for the water that drain into our sources of drinking water.
What you may not realize is that you live in a watershed. Almost all of the runoff that occurs in southern Denton County flows into either Lake Lewisville or Lake Grapevine.
We are located in the Trinity River Watershed, which includes 17,965 square miles, or approximately six percent of the state's landmass. The Trinity River serves as a primary water supply to more than 5 million people in the upper basin centered around the Dallas/Fort Worth metropolitan area.
This means that everything you do in your yard or in our community impacts your drinking water supply.
We may automatically think of pesticides or fertilizers that are applied in our landscape. And while most of us are aware that litter is unsightly, you may not realize that it make its way down to our rivers, streams and lakes. While kayaking in some of our local streams, I found myself surrounded by plastic bottles. A fellow kayaker commented what a shame that all the people out enjoying nature would litter, but the reality is that most of that litter came from our streets, down the storm drains, into the streams and eventually to our lakes.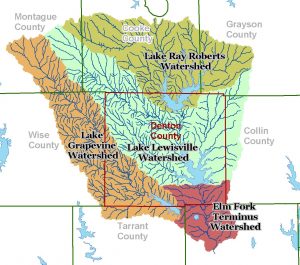 Let's talk about storm drains. They are the cut-outs in our streets where storm water drains during rain. Did you know that storm water goes directly to our streams and eventually lakes? Many people confuse storm drains with sewer systems. Sewer systems go from your house to a treatment facility. Storm drain water doesn't get filtered or cleaned. Therefore it is not a good place to dump chemicals and in fact, it is illegal. Enough chemicals get mixed into the water from streets and parking lots. Even more incentive to keep your car well maintained and not leaking oil or other fluids. Also, chlorinated water from swimming pools are illegal to dump into storm drains.
It is also not a good place to put leaves. Organic material like leaves and grass clippings can physically clog up the drainage systems leading to flooding. But, also that added organic material in our waterways releases carbon and nitrogen when it decomposes which promotes algae growth and can kill aquatic life.
And finally, pick up after your pets. Pet waste is a major source of bacteria in local waters. It also can add excess nutrients to the waterways which negatively impacts fish and wildlife.
If you'd like to know more about watersheds and how you can help protect ours, come to the Texas Watershed Steward workshop. This free workshop will be specifically related to the Hickory Creek watershed and will be held from 1 p.m. to 5 p.m. on March 8th at the Denton County Elections Administration Building, 701 Kimberly Dr. in Denton.
The workshop is presented by the Texas A&M AgriLife Extension Service and the Texas State Soil and Water Conservation Board in cooperation with the City of Denton. The workshop is free and open to anyone interested in improving water quality in the region. Participants are encouraged to preregister at the Texas Watershed Steward website at http://tws.tamu.edu.
We are here to help with your plant/lawn/landscape questions, give us a call at 940-349-2892 or email [email protected]. You can also follow us on Facebook to find out about all our events; we are Denton County Master Gardeners and Denton County Texas A&M AgriLife Extension.