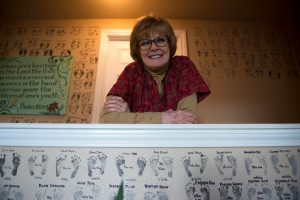 Some people work at jobs, others practice professions, but Donnellyn Dominguez, who is a mother, grandmother and great-grandmother, listened to her heart; she became a midwife.
"I have loved babies ever since I can remember," she said, "and for me, this isn't just an occupation, it's a calling."
A Licensed Midwife (LM) and Certified Professional Midwife (CPM), she owns and operates All About Babies, a midwifery and birthing center.
The facility is a beautifully refurbished, brick ranch house on FM 1830 in Argyle.  She got into the business first as a birth coach or doula.  That last word is Greek for a person who serves or ministers.
"I went to the hospital with my client whose labor was judged to be progressing very slowly, so we went back to her apartment, where she promptly delivered the baby in the bathroom with my inexperienced help."
That event sent a determined Dominguez on the road to midwifery– pronounced, by the way, mid-whiff-ery.  The occupation is the art and practice of attending women giving birth.
Obstetrical knowledge from historic antiquity, which included C-section delivery, gave way to superstitious practices after the fall of Rome.  Midwifery started a slow comeback in about the 1600s.  A century later, large European cities had maternity hospitals, which also trained midwives.
State regulation began in the 1800s.  By 1902, most births still took place in the home and the British parliament passed the first-ever Midwives Act.  That groundbreaking legislation established acceptable childbirth training and practices, administered a licensing examination and the consequent midwife certification.
With the discovery of germs– and the development of antibiotics and wonder drugs– midwifery became, for a time, a mostly rural phenomenon, as women chose doctors to attend their more modern hospital births.
In the mid-1800s and early 1900s, doctors used toxic anesthetics– chloroform, morphine and scopolamine– to give mentally-unfocused laboring mothers pain relief.
In the 1970s, professionals began to administer from-the-waist-down, total pain relief– called the epidural block—in which the doctor orders an anesthetic injected into the mother's spinal tissues.  Even this is not risk-free, but has become the norm for most hospital births today.
Every birth room at the All About Babies Center has a large tub, as most mothers prefer being in water for the big event.  "It just feels better."
That's always a good thing in a tight squeeze like childbirth.  Dominguez calls the water birth "Our aqua-dural pain relief."
In the 1940s, one British obstetrician concluded normal childbirths should not be treated as illness, but as a natural process.  He felt educated, coached, conscious mothers could work with their contractions.  Many of his peers felt this approach was unscientific and backwards, but by the late 1950s, "natural childbirth" for healthy women had become popular with doctors and mothers in England and the United States.  This changed point of view led to the invention of the Bradley and Lamaze childbirth methods.
"At All About Babies, we coach our mothers in the general Bradley birth style," Dominguez said.
The birthing center offers prenatal classes on a host of topics for expectant parents.
"We emphasize the importance of good nutrition and exercise."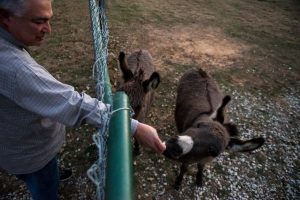 The center even has organic gardening instruction and a fathers' class called The Man Cave.  Dominguez's husband Chris teaches the dads.
She has attended about 700 births in the past 11 years and been the primary midwife at 600 of those deliveries.  All the babies born at the center donate their tiny footprints to decorate a wall of the family and friends waiting lounge near the spacious, fully equipped kitchen.
"Birth is a joyous event and if relatives or friends want to prepare a celebratory meal for the new family, they can bring in the groceries, make the food and set the table right here."
Dominguez's professional partner is Kathaleen May– also an LM and CPM—(and mother of nine children, so she knows a thing or two about babies!). The staff includes an angelic Office Manager and four beautiful apprentice midwives who live in the Metroplex; all are on call 24/7/365.
Dominguez and May both belong to the Association of Texas Midwives (ATM).  Dominguez trained with Donna Miller who established the first birth center in the Metroplex.
ATM membership requires passing the eight-hour national certification examination, administered by the North American Registry of Midwives (NARM), headquartered in Washington, D.C.  After the test, students must finish an unpaid apprenticeship with a primary midwife for a minimum of two-years, or 50-births.  All About Babies' staff credentials are on public display in the birth center lobby.
"Midwifery is not doctoring; we are not doctors," Dominguez emphasized, "If we think a delivery will get complicated, we immediately refer the client to our collaborating obstetrician on staff at Denton Presbyterian Hospital.  He has 30-years of experience with complicated births and came to the birth center's attention via glowing recommendations.  We agree he is the very best and are pleased he is midwife-friendly."
Since its opening six-years ago, the birth center has sent only three-clients in labor to meet the doctor at the hospital.
The center provides prenatal care, childbirth education, delivery service, and postnatal care.  It has consulting lactation, pediatric, doula, chiropractic, circumcision and massage affiliates.
Medical insurance pays for birth centers as out-of-network service providers.  The average birth center fee comes to $6,000.
"The average hospital delivery costs anywhere from $12,000 to $20,000, so there's quite a difference," said Dominguez. "We do first births in the center and are happy to do later births at home."
In fact, the midwives at the center think home birth is the safest option with one caveat.
"If a woman has had a caesarean section, we will do her next birth naturally at the center, but we always refer women with multiple C-sections to deliver in a hospital with a physician in attendance," said Dominguez.
All About Babies is not connected to any particular religious denomination.
"But we are definitely Christians who think every birth is a miracle designed by God; and, we agree with the Psalmist who said children are a blessing from the Lord," (Psalm 127:3-5) Dominguez said.
For people embarking on the family adventure, Dominguez recommends being kind and patient with each other.
"Enjoy yourself and your family," she said.  "Take time to be present in the adventure, because childhood is a fleeting time.  Live so you don't have regrets."