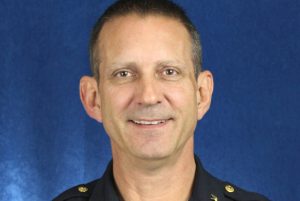 by Flower Mound Police Chief Andy Kancel
Community is our strength, excellence is our goal. This statement has been an integral part of the Flower Mound Police Department's culture for years. As the Chief of Police, I want to thank you, our community members, for giving us such strength and support throughout the year. The men and women of our department were overwhelmed by the outpouring of support all year round, especially after the July 7 ambush on a peaceful protest in Dallas, and the tragic recent murder of Little Elm Police Detective Jerry Walker. As citizens, the role you play in making Flower Mound a safe community cannot be underestimated. It's not just your thoughts, prayers, and support that helps us do our jobs; it takes a partnership.
In 2016, Flower Mound was awarded the No.1 "Safest City in Texas" for municipalities with a population over 50,000 residents, and the 12th "Safest City in Texas" overall by ValuePenguin, a finance research and analysis website. While the Flower Mound Police Department is proud of this designation, we can't take all the credit. We have over 100 volunteers who act as our eyes and ears and help with tasks like serving as school crossing guards or taking cars to be serviced so that an officer can stay on patrol, and get to calls for service quicker. You don't have to make a commitment to volunteer to help. Most crimes in Flower Mound are property crimes and they're also crimes of opportunity.
There are many actions any citizen can take that will increase safety in Flower Mound. With spring fast approaching people will become more active, and crimes of opportunity will increase as activity increases across the Metroplex. Don't leave your car parked on the street if you can avoid it. Never leave anything in plain sight inside your vehicle. Car burglars will break a window to steal loose change or see what's inside an empty duffle bag. Make sure your garage and vehicles are shut and locked.
The best way to deter crime is to help each other. If you don't know your neighbors in front, behind, and one each side of your residence, take the time to meet them and talk. Tell at least one neighbor when you're going to be out of town and make sure someone picks up your newspapers, door hangers, and mail. Give your most trusted neighbor or nearby relative a key to your home in the event of an emergency. Get to know your police officers, too.
We have an array of great community programs to help you get to know the outstanding men and women who serve you each and every day. Citizen's Police Academy, National Night Out, Open House, Coffee with a Cop, and our Bicycle Unit are just a few ways to engage your public servants. Stay abreast of current events like road closures and crime trends by following us on Facebook and Twitter. In 2017, we've started a new Facebook segment called "Beyond the Badge". Each episode highlights a Flower Mound Police Officer pursuing a passion close to the his or her heart, and hopefully illustrates what I've learned over the past three years in Flower Mound, that we have some of the most professional, compassionate, and dedicated people I've ever had the pleasure of working with.
Finally, and most importantly, don't hesitate to contact us. I can't tell you how many times I've been approached by a resident who related a story about a suspicious circumstance that happened a week ago that ends with the question "should I have called?". If you're in doubt, give us a call on our non-emergency phone number (972.539.0525) and let us come check things out. A mentor of mine used to say that policing was the only 24-hour-a-day, 365-day-a-year social service available to the public, and he was right. However, the "thin blue line", sometimes referred to as the line between order and chaos, never really existed. The thin blue line is merely one of many lines interwoven in a cloth that makes up our great and diverse community where we all help each other. Thank you for allowing me to be your Chief of Police, and I hope you have a safe 2017.