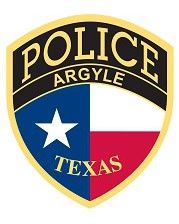 The following is a summary of incident reports recently made to the Argyle Police Department as compiled by the staff of The CTG:
An officer saw a couple on the side of the interstate that appeared to be arguing. Upon investigation he learned that it was an emergency potty break for a 2-year-old.
A homeowner on Forest Trail reported that a black male came to her door after dark wanting to know how to get to Hwy 377. She said he was acting nervously and thought it was very suspicious considering that Hwy 377 is nearby. A few minutes later, the woman thought that she saw the teenager at her back door so she ran and hid in a closet while her dog took off out the door. She later determined it was just a shadow.
A burglary was reported in November on Joyce Lane. When the residents arrived home around 8 p.m., they found every room of the house ransacked and said it appeared the burglars broke in through the back door.
A resident on East Hickory Hill Road said that one of her neighbor's calves had gotten out and she was trying to keep it contained, but it kept "freaking out" and running back in the road. She said her neighbor was out of town and asked for help getting the calf back in the pasture. She called back a short time later to say that another neighbor helped her out so deputies were no longer needed.
An anonymous caller from Country Lakes complained about frequent eggings in the neighborhood during the past few days. The next day another Country Lakes resident reported that a maroon truck was driving through the neighborhood and the occupants were throwing eggs at homes and vehicles. Officers were unable to locate the egg tossers.
A red 2002 Ford F-150 was stolen from the driveway of a residence on Hickory Hill Road.
Police responded to a welfare concern on Denton Street after a man reported that his sister posted on Facebook that her daughter was dead and she wanted her ex-boyfriend to take his gun and shoot her in the face to "end it all." An officer arrived at the residence and spoke to the woman in person as well as her daughter by phone and did not find any problems.
A man reported an incident while dropping off items for his daughter at his father-in-law's house. He told police that his father-in-law broke his vehicle's passenger window and made him hit himself.
Two cows that escaped their pasture were killed after being hit at highway speed by a Ford F-150 Raptor pickup on FM 407 one evening in November. The truck sustained major front-end damage but the driver was not injured.
December started with a call from a residence in the 300 block of Redbud St. At 4:30 p.m. on Dec. 1, the granddaughter of the homeowner called to request three criminal trespass charges against the owner's two daughters and a boyfriend for a verbal argument during which the three had threatened to take away a dog. By the time the officer arrived, everyone had left the house.
At the same address, on Dec. 4 at noon, police responded to a CPS official request to make sure the homeowner has food and medication. An officer observed the woman taking a breathing treatment and saw that both medication and food was present, in addition to several grandchildren and great-grandchildren; as well as six or seven other people who live at the residence.
Later that day, at 4:45 p.m., another call came in for criminal trespass charges against the original three people, two of whom have been evicted. Again, the removal of a dog was at issue.
A motorist reported a flower pot rolling around in the right lane of I-35W at Crawford Road. An officer arrived and noted that the flower pot had been struck and killed with no hope for reconstruction and flower pot CPR was not advised. The officer unceremoniously cleared the remains off the roadway.