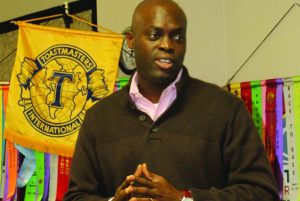 You might think death, loneliness, or financial failure would be the worst fear of Americans.
But, according to numerous sources, the number-one fear of Americans is public speaking and even ordinary citizens may be called upon to engage in public speaking in their workplaces, churches, or at other venues.
Toastmasters is an organization dedicated not only to help Americans conquer their fear of public speaking, but also to help them excel at the art. Toastmaster members also learn leadership skills and parliamentary procedures.
At the Flower Mound Toastmasters' Holiday Speech-A-Thon held on December 15, 2016, Toastmasters from the Flower Mound club and the WBC Church Club of Lewisville gave speeches with topics ranging from humorous to serious.
"I've Got 99 Problems, But a Selfie Ain't One" presented by Jyothi Eppalapalli of WBC induced raucous laughter from the audience, while George Simon's "Should the U.S. Embrace Free Trade?" provoked thought with his fact-filled view of an important economic issue.
Simon, a Flower Mound resident, just joined the Flower Mound Toastmasters Club in July 2016. A senior manager at accounting firm PwC LLP, said he joined to gain "more confidence as a speaker" and, since joining, has "less anxiety with each successive speech."
Simon offered sage advice to others on considering whether to join Toastmasters: "If you desire to improve your public speaking skills, Toastmasters offers a safe environment where you can discover your speaking skills. It's also very cost-effective and you can learn from more experienced speakers."
Current Area 64 Director and Immediate Past District 25 President Elly Malaxos delivered a funny speech about Santa Claus' Kringle, Inc., and its plans for accomplishing its goals on Christmas Eve.
Malaxos, who credited Toastmasters with helping her: "overcome her fear of speaking in front of large groups."
"Toastmasters is the most effective personal and professional development organization I have ever participated in," she said. "Members work to improve their communication, public speaking and leadership skills in a supportive, warm, friendly club environment. It is a 'safe zone' to practice, learn and make mistakes."
During the Speech-A-Thon, Denton resident Joyce Trimble served as the toastmaster; one of the roles members may assume during meetings. Other role options include those of grammarian, speech evaluator, meeting evaluator, "ah"-counter and posture monitor.
As Division B director, Trimble serves 24 clubs.
"I can remember the very first time I visited a club," she said. "It was a very long time ago and I walked away thinking 'I would/could never do that.' Many years later, another opportunity presented itself and the timing was right.
"Why I joined and why I stay are for two different reasons. I joined because I knew it would help me in my department presentations to senior management. I found confidence in my continued journey and confidence allows me to be the best in everything I do; even my job or as my division mantra is: 'With confidence, you can just B.'"
Individuals who opt to become members first progress through the Competent Communicator and Competent Leader manuals.
The Competent Communicator manual provides tips on how to research a topic, organize speeches, inject vocal variety, use appropriate body language, employ visual aids, persuade with power and inspire audiences.
The Competent Leader manual provides hints on how to listen to others, think critically, dispense feedback, manage time, plan and implement, organize and delegate, motivate and mentor others, plus build teams.
The first speech a new member presents is called the Ice Breaker, during which he or she provides the audience with information about their background, their interests and their goals.
Notes may be used during the Ice Breaker. New members are encouraged to practice their initial speech before relatives and friends. New members may give their initial speech when they feel ready; pressure is not exerted upon them to give it by a certain date.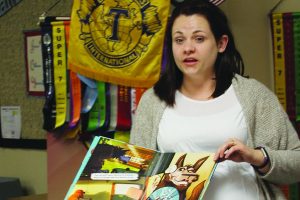 The Toastmasters organization is currently rolling out a new program called Pathways that according to www.toastmasters.org will offer customized "online learning, cutting-edge content, interactive tools, strong mentoring and evaluation components, and a multitude of options."
Toastmasters is organized on six different levels: first, the clubs; second, the areas; third, the divisions; fourth, the districts; fifth, the regions; and, lastly, the international.
Toastmasters International has approximately 15,900 clubs in 142 countries and is always expanding. Toastmasters help members develop speaking and leadership skills through various programs whose manuals give speakers step-by-step instructions.
Toastmasters may opt to enter speaking contests on the club level. If they win, they then compete at the division level. Winners of division contests move on to district contests. Winners of district International Speech Contests, held every spring, advance to an international contest. The winner of this contest is named "World Champion of Public Speaking."
The Flower Mound Toastmaster Club, which is in Area 22, Division B and District 25, was founded April 30, 2010 and now has 25 active members.
Officers of the Flower Mound Toastmasters club include President Prakash Murthy, Vice President of Education Kristen Hollis, VP Public Relations Alicia Morales, Sergeant-At-Arms Erica Rivers, VP Membership Steve Schott, Treasurer George Simon and Secretary Joyce Trimble.
President Prakash Murthy of Flower Mound has been a Toastmaster for four years, spending about three of them as a member of the Flower Mound club. He has earned his Toastmasters' Advanced Communicator Silver and Advanced Leadership Bronze awards.
Murthy works as Enterprise portfolio manager at Parkland Hospital.
"Toastmasters has helped me in my position as I regularly facilitate large group meetings attended by executives," he said. "I would strongly encourage others to join, as it will help them in their professional and personal endeavors."
Interested individuals from any town may visit the Flower Mound Toastmasters Club and witness its supportive environment without any obligation to join.
The club, No. 1476720, meets every 2nd, 3rd and 4th Thursday at 7 p.m. in Room 120 at Trietsch United Methodist Church, 6101 Morriss Road.
Individuals who have questions about Toastmasters in general, or the Flower Mound Toastmasters Club in particular, may visit the club's website at: http://1476720.toastmastersclubs.org; or they may email [email protected]