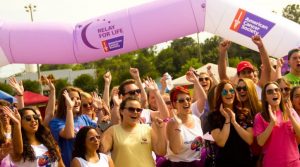 Everyone who has been touched by cancer has a story, and organizers for this year's Relay for Life in Denton need the community's help to tell those stories.
Relay for Life of Denton is planned for 2 to 10 p.m. April 22 at the University of North Texas Coliseum, and teams are forming quickly and beginning their efforts to raise money to help provide service and support.
Each year, businesses, schools, civic clubs, churches and other community groups form teams to help expand cancer research and provide services to cancer patients and their loved ones. At this community event, the teams and individuals set up campsites and take turns walking or running around a track or path. Each team has at least one participant on the track at all times. Cancer survivors and caregivers take a celebratory first lap to start each event. Each participant and team raises money that supports groundbreaking cancer research, education and prevention programs, and critical services for people facing cancer.
"Our research has made some significant progress in fighting all types of cancer, and Relay for Life plays an important part in carrying on that mission," says Christina Gockley, community manager for Relay for Life of Denton. "It also helps us greatly as we expand our services to cancer patients and the people who care for them."
Many teams form in honor or memory of someone who has fought cancer. This year's Relay for Life event will encourage cancer survivors and caregivers to share their stories in hopes that through them those fighting cancer and their families and friends can learn and receive support. In that theme, teams participating in this year's Relay for Life will be encouraged to decorate their booths around story book themes.
To start your team or to learn how you can be part of Relay for Life, visit www.rflofdenton.com.