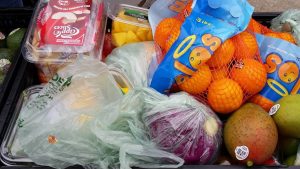 by Courtney Davis, Denton County Extension Agent – Family & Consumer Sciences
I cleaned out the refrigerator this evening and was amazed at how much food ended up in the trash. Whether it's produce that I forgot that I had purchased before it turned bad in the refrigerator, or leftovers that were packed with perfect intentions but that our family never got around to eating, my household wastes a lot of food; and we're not alone.
I was recently surprised to learn that approximately 40% of all food produced in the United States each year goes uneaten.  That equates to about 133 billion pounds of food that is wasted each year.  This costs upwards of $161 billion dollars each year (more than $1500 per year for a family of four).  Additionally, this wasted food is bad for our environment as approximately 20% of all of our landfill waste is food and the methane gas released by food is 21 times more harmful as a greenhouse gas than carbon dioxide (U.S. Department of Agriculture and Environmental Protection Agency).
Here are a few suggestions on how to cut food waste in your home:
Be food safe. Pay attention to how your food is stored to maximize safety and shelf life.  Refrigerated leftovers can be safely eaten up to 3 or 4 days after originally prepared. Also pay attention to how your produce is stored. Not all produce belongs in the refrigerator and storing some fruits and vegetables next to one another can actually make them ripen faster. For more information on proper fruit and vegetable storage, visit http://denton.agrilife.org
Be creative. Look for new ways to use produce or make your leftovers into "planned-overs".  For example, this past weekend we found a new slow cooker barbeque chicken recipe that was delicious, but it made more than my family could eat in a meal.  This week we will be enjoying the leftovers as tacos. Freezing leftovers is also another option for easy meal preparation at a later date; just make sure that you freeze them before they have the chance to spoil in your refrigerator.  Find great recipe solutions at http://dinnertonight.tamu.edu.
Eat ugly vegetables. It's true. Most of our food waste is actually done before it even hits the store. Our retail stores will only purchase pretty fruits and vegetables from our producers because that is what consumers like to purchase. So what if your potato isn't perfectly symmetrical or if your peach has a growth or if your carrot is a bit crooked? Ugly produce is just as safe and delicious as their pretty counterparts.
Be aware. Take inventory of what you have on hand before heading to the store.  Also, try keeping track of the food waste in your family for a week.  Simply being aware of the food waste in your family will help you to make better choices.
Be green. There are still going to be items that come out of your kitchen that are unsafe to eat. Compost them!  Starting a home compost bin is extremely easy and can be done in very little space and at very little expense.  Give back to Mother Nature! Learn more by attending our upcoming Vermiculture Class (worm composting) at Emily Fowler Public Library on February 16 at 6:00 p.m.  You can also find great composting resources at http://denton.agrilife.org or email our Master Gardeners Help Desk at

[email protected]
Despite all of the food wasted in the United States, one in seven Americans are still food insecure and don't know where there next meal will come from.  The North Texas Souper Bowl of Caring kicks off on January 18 and will run through February 5, 2017.  This campaign is a great way to give back directly to the hungry individuals in our community.  When you're shopping for groceries in the next couple of weeks, pick up a few extra canned and non-perishable food items and drop them at your store's collection table.  All food items and monetary donations collected during this campaign stay local and support the hungry right here in Denton County.  Visit their website (https://souperbowl.org/dfw/) to find a list of participating stores near you.
Looking for a more hands-on approach to giving back? The Denton Hunger Coalition is always looking for volunteers for the monthly mobile pantry. The Denton Mobile Pantry is the second Saturday of the month in the Serve Denton parking lot (1980 E. University Drive, Denton).  Find the Denton Hunger Coalition on Facebook for more information on volunteering.
For more information on safe home food handling, contact Courtney Davis, Denton County Extension Agent for Family and Consumer Sciences at 903-628-9351 or [email protected].