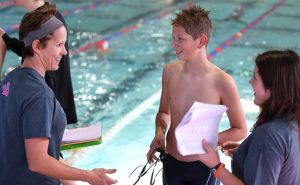 Liberty Christian swim coach Hesper Matzo recently was letting a few student-athletes into the locker room when one of them asked which sport she coached. Being the excited and eager first-year coach that she is, Matzo perked up and said she coached the swim team.
To Matzo's surprise, she was immediately met with a blank stare.
"She said, 'We have a swim team?'" Matzo said with a laugh. "Yes, we are small. But we are mighty."
Liberty Christian's swim program always has been relatively unknown — clearly, even in the hallways of its own school. But don't feel too badly for them, as the future is looking bright. With a varsity roster of seven athletes, Liberty Christian is less than a month from having two swimmers compete at the TAPPS state swim meet slated for Feb. 10–11 in San Antonio.
Juniors Ryan Folk and Braedon Gunn are state bound, and both are coming off a strong showing in the Kyle Tilley Invitational at the Westside Aquatics Center in Lewisville. Folk came in ranked 14th in the 500-meter freestyle and finished third with his best time of the year at 5 minutes, 13.23 seconds. Gunn, who is in his second year on the team, finished the 50 Free in 26.04 seconds. He swam a 57.94 in the 100 Free.
They are the proverbial torchbearers for a team that also includes junior Kathy Lee, sophomore foreign exchange student Ben Chen, and the freshman trio of Katie Manning, Pippa Tedford, and Allie Claire Pekurney.
Small, but mighty.
"I'm fortunate to have great kids who continue to rise to the occasion," Matzo said. "We are the smallest team at every meet, and none of that matters to these kids. They push themselves, and they're constantly improving. Ryan's latest time was his best time this year. Kathy dropped another five seconds off her time in the 200 Free and is right on the cusp [of state]. Our focus is all about getting faster times."
Matzo doesn't just feel like she's building a team. She's also building a program. While small, this year's numbers show that there is interest and dedication to the sport. Last year, Folk and one relay team advanced to state. That was before Chen, Manning, Tedford and Pekurney all joined the varsity team.
As word of their success has spread around campus, Matzo said football parents have asked about the program in terms of keeping players conditioned during the spring. She also stressed the importance of the program's Middle School students, which appears to be growing as several swimmers are looking into inviting friends to join.
As interest grows at the Middle School level, it will carry over to varsity.
"We're just trying to get the word out as much as we can. We've had swimming in the past, but there have been so many different coaches and players that it's been hard to get the word out," Matzo said. "This is my building year, and I think over time we will get there. We have great kids."