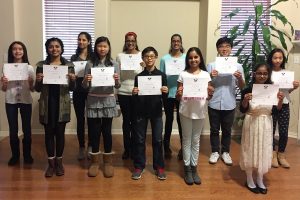 Students from Music Starz Studios in Flower Mound volunteered their talents over the weekend by performing nine free concerts for Alzheimer's and dementia patients at eight area assisted living centers.
As a result, 11 students received the Martin Luther King Jr. Drum Majors for Service awards from the President's Volunteer Service Award program.
The awards are named for the "Drum Major Instinct" sermon King gave Feb. 4, 1968 at Ebenezer Baptist Church in Atlanta two months before his assassination.
Students earning awards were: Jacqueline Hubbell (9th grade), Aneka Raj (11th grade), Cristina Mendez (junior at Fordham University in New York), Brianna Poon (6th grade), Chelsea Heredia (9th grade), Kennard Wong (7th grade), Ellie Heredia (9th grade), Aditi Singh (5th grade), Taewon Lee (12th grade), Sanjana Gokul (3rd grade) and .Sanna Sisoutham (6th grade).
The students performed at the following assisted living centers:
The Oaks Assisted Living and Memory Care in Flower Mound
Hollymead Skilled Nursing & Rehabilitation Center in Flower Mound
Flower Mound Assisted Living
Arbor House Assisted Living and Memory Care in Lewisville
Evergreen at Lewisville
Lewisville Estates Assisted Living
Rambling Oaks Extensive Care Community in Highland Village
Heartland Healthcare Center in Bedford