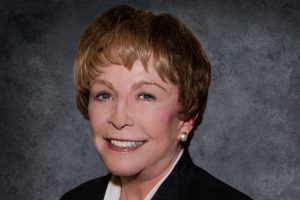 Town Continues Decade of  "Clean" Audits – Annual 2015-2016 Budget Underspent $165,103
At the December 2016 Council Meeting, auditor William Spore reviewed another "clean" audit with the Council and Staff.   I genuinely appreciate current and former volunteer Council Members for their diligence in reviewing financial details and their thoughtful conservative fiscal management of Town funds.  And a huge Thanks to our Town Administrator Donna Welsh!  She has strived to make financial choices clear to Council Members, and Donna and Town Secretary Sheila Morales always look for the most prudent way to spend Copper Canyon residents' tax dollars!  The dedication of our Council Members and Staff to Copper Canyon has contributed to this decade of our Town's continuously "clean" audits!  And, to the Town's increased AAA fiscal ranking by Standard & Poors!
The Annual Budget for fiscal year 2015-2016 was underspent by $165,103!         .  Traditionally, the Council has rolled any unspent surplus money in the annual budget into Copper Canyon's Road Fund.  Several years of accumulated surplus funds, from underspending our annual budgets,  has allowed the Town to continue to maintain and rebuild its roads – without asking voters to authorize additional road bonds to borrow money to fund rebuilding.  As an example, the Town will begin rebuilding Woodland Drive in concrete next month.  (Woodland is our most heavily traveled interior residential road.)  The funding for Woodland's rebuilding has come from several years of accumulating surplus funds from underspent annual budgets.
The only remaining roads in town to be rebuilt are:  (1) Chinn Chapel Road north to the Orchid Hill roundabout; (2) Jernigan Road and East Jernigan Road, and (3) Waite Drive.
The County has funded the rebuilding of our three major perimeter commuter arteries: Copper Canyon Road, Orchid Hill Lane, south Chinn Chapel, and now a section of Chinn Chapel from Harlington Drive north through a Quiet Zone Railroad Crossing.
Three Current Council Members Are Willing to Serve Another 2 Year Term
The current Council team has worked well together.  It includes both veteran financial advisor to Copper Canyon Deputy Mayor Pro Tem Steve Hill (Copper Woods Lane) – and – more recently elected Council Members Valerie Cannaday (Post Oak Road off of Copper Canyon Road)  and Bill Castleman (Lonesome Dove Lane off of Jernigan Road), who have contributed professional experience from different business backgrounds.
Mayor Pro Tem Jeff Mangum (Bridle Path Road off of Copper Canyon Road), Council Member Dave Svatik (Estates Drive off of Chinn Chapel Road), and myself as Mayor (Orchid Hill Lane) are asking Town residents to support each of us to serve another two year term.  (Though we have worked as a team on Council the past several years, we each make our own decisions individually as to whether we are willing to volunteer an additional two years on Council.  Background resumes for each candidate will be in next month's "What's Happening in CC.")
The six of us currently on Council – Mayor and 5 Council Members – all have homes in different geographical parts of Copper Canyon.  This spread of representation from across the Town helps the Council make balanced decisions that are in EVERY Copper Canyon resident's best interest.
The spread of years served on Council also provides balance.  The Council has both "historical knowledge" of past events and why decisions were made – and "new ideas" from more recently elected Council Members.
But most importantly:  Council Members need to be willing to look at issues from the perspective of ALL our Town's residents, to balance current needs with long term planning, to always analyze "cost versus benefit" to remain fiscally responsible with our tax payers' dollars, and to deliberate and decide in an atmosphere of mutual respect for each other and all Town residents.
Copper Canyon and Coserv Again Host 6th Annual Denton County Mayors Crime Prevention Luncheon – Feature Speaker F.B.I.  Special Agent Rick Burkhead Presenting "First Responders: Current Morale and Recruiting Trends."
Copper Canyon is very grateful to CoServ for again funding the 5th Annual Denton County Mayors Crime Prevention Luncheon.  And our special thanks to Tracee Elrod for expediting the arrangements with CoServ. Previously we hosted the luncheon in our Town Hall.  But, the Event has become so well attended by Denton County Mayors, County Commissioners, Police Chiefs, our Sheriff and his SO Staff, and legislators that the event outgrew the space available in our Council Chambers – and our limited parking area. So, this year we are again hosting the luncheon at Briarwood Retreat's new Conference Center on Copper Canyon Road.  Attendance is by private invitation to Elected Officials and First Responders and is not open to the public.
P&Z Meeting in February to Consider Requiring Minimum Two Vehicle Garages Per New Home  [NOTE: Currently, Town requires NO carport or enclosed garage coverage for vehicles and no replacement of vehicle coverage if garage space is converted into living area.]
Dangerous Campfires and Graffiti on Trails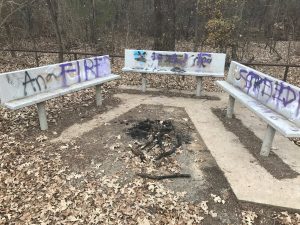 Longtime Copper Canyon Trail Committee Chair Deb Valencia Schmitz will be presenting her 2016 end of year report to Council.  She said "The Copper Canyon trails, known as the Pilot Knoll Trails, are for the most part in great shape! However, we continue to have evidence of campfires, which of course are a serious hazard to the beautiful woods and wildlife, as well as to surrounding neighborhoods.  If you are on the trails, or live adjacent to the trails, please be aware of and report any smoke and/or anyone you see building a campfire.  If the emergency is immediate, call 911.  Otherwise, call the non-emergency Denton County Sheriff's Office number 940-349-1600.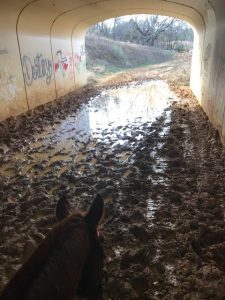 Trail Tunnel Under FM 2499 is a Muddy Bog!
"The rains of the past few years have created a hazard in the Trails tunnel under the FM 2499 bridge.  Unfortunately, the tunnel under the bridge, and area around it, does not drain properly.  Also unfortunately, the tunnel has a mud floor, not a concrete one, so removing muck from the tunnel floor is difficult.  When it rains, the tunnel floor is a big muddy bog that neither drains nor dries timely due to the lack of sunlight in the tunnel.  It is nearly impossible to travel through the tunnel safely on foot or on horseback.  And, horses can lose a horseshoe, while trying to extract a foot from the sucking muck.  Copper Canyon is working with Denton County to rectify this issue.  So, stay tuned.
"In the meantime, we continue to have issues with graffiti in the tunnel.  Unfortunately, it has NO artistic value!  If you see anyone spraying graffiti on the tunnel walls or ceiling, please report them to the non-emergency number of the Denton County Sheriff's Office. 940-349-1600."
$5,000 in donated College Scholarships – Applications available now at Town Hall for high school seniors.  Please help us identify all graduating seniors to invite to Senior Celebration Event Sunday, April 23, at Town Hall!
Scholarship funds were provided for several years from sales of the Copper Canyon Cookbook, whose publication was funded by donations.  Current scholarships are funded by donations from Copper Canyon residents and vendors to the Town.  Donors will be identified and thanked when the scholarship winners are announced in April.
There are only three basic qualifications to apply for the College Scholarships:  (1) the applicant must live primarily in Copper Canyon; (2) the senior must be graduating this spring; and (3) the senior must have already been accepted to a college or recognized technical institute.  The scholarships, ranging in amounts from $500 to $2,000, will be paid directly to the college to apply to the recipient's tuition.  Completed applications are due at Town Hall by 3 p.m. Friday March 31st.
Judges consist of both Copper Canyon residents and non-Town residents.  The judging is "blind."  Applicants do not know the identity of the judges.  The judges receive the applications with identifying names, addresses, and personal information redacted.
Copper Canyon's  graduating seniors have primarily come from Lewisville ISD's Marcus High School , Denton ISD's Guyer High School,  Liberty Christian School in Argyle, are "home schooled" , and several have attended Coram Deo Academy in Flower Mound, and Lakeland Christian Academy in Lewisville.
High schools are understandably legally reluctant to release the names of graduating seniors and their addresses for security and privacy reasons.  So, our Town relies heavily on our residents to tell Town Hall who our graduating seniors are. (Email [email protected] or call 940-241-2677 Ext #2.)
Donations also provide a $100 scholarship to each graduating senior who doesn't apply for a competitive CC college scholarship. Each student also receives a full size Texas flag with a certificate in their name certifying that the flag actually flew over our capitol in Austin. The certificates are complimentary from our Texas Legislature Representative Tan Parker and his District Director Patricia Robinson.
The senior is welcome to invite parents, siblings, even grandparents to attend the April 23rd Senior Celebration.  Councilman Bill Castleman, a professional photographer, volunteers to take photos of the senior graduate solo and also with attending family members.  Castleman's photographs are outstanding!  And he graciously provides digital copies of the photos gratis to each graduating senior.
Area Warning: The Latest "Prize Patrol" Scam
Scammers posing as the Publishers Clearing House "prize patrol" sent a letter to an 84-year-old Dallas resident stating that she was the lucky winner of a $600,000 prize.  "The letter bore an official looking stamp and what appeared to be the signature of an official from the direct-marketing company known for its million-dollar giveaways."  But the victim had to first send $6,000 for "customs and processing fees."  You can imagine the rest of the story.  NOTE: Publishers Clearing House does not contact winners in advance through mail or by phone.  (Dallas Morning News, Saturday, December 31, 2016 page 2B.)
Our Jails Serve As Holding Cells for Our Mentally Ill
"One in 10 Dallas County inmates is in jail solely because of mental illness.  The Dallas County jail is the second-largest mental-health treatment facility in Texas, after the Harris County jail.  Of the 5,200 or so Dallas County inmates, one-third have mental illness….
"On average, Dallas police receive 32 calls a day related to someone with mental illness.  In those situations, people are typically brought to jail or an emergency room, even though in many cases what they actually need is simply a caseworker or access to medication."  (Dallas Morning News, December 29, 2016, page 14A.)
Last year our Denton County Jail housed approximately 1600 inmates.  How many of those inmates were there due to mental illness?  How many calls from individuals with mental illness did Denton County municipal police officers and Denton County Sheriff's deputies answer?  As former Dallas Police Chief David Brown said, "We're asking cops to do too much in this country," and his first example was handling mental health issues.
This is also a humane issue.  Needing medication or to talk to a caseworker is NOT a criminal act.  And, a jail cell is not a responsible solution.  Being mentally ill AND violent is definitely a law enforcement issue.  The challenge is distinguishing between the two extremes of mental illness – non-violent and violent – and all the grey areas in between.