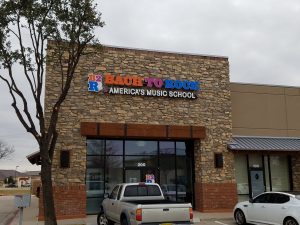 Bach to Rock, America's music school for students of all ages, announced it is opening a new school in Flower Mound.
The community is invited to the grand opening festivities on Saturday, January 21, from 10 a.m.–2 p.m. at 6000 Long Prairie Road, Suite 200 (FM 2499 and Dixon next to Ebby Halliday).
Attendees are welcome to tour the school, enjoy a free music lesson, learn about individual lessons and group classes, try out free toddler "Mommy and Me" classes, enter into prize drawings and giveaways, check out the recording studio, and meet the teachers.
"Bach to Rock has had an exciting year of growth. In 2016, we opened 10 new franchise schools.  The newest school in Flower Mound, Texas will be our first in 2017," said President of Bach to Rock, Brian Gross.
Led by Brian and Beth Donovan of Bridlewood, the new franchise group will help expand Bach to Rock's presence in Texas. "Brian and Beth are looking forward to tapping into their passion for educating children by utilizing the Bach to Rock brand model and they are very enthusiastic about bringing Bach to Rock to their hometown," Gross said.
Busy entrepreneurs and the parents of two children, the Donovans are thrilled about the opportunity to help aspiring musicians learn to express themselves in a supportive and team-oriented learning environment.
"The Bach to Rock method gets students playing right away in groups and playing current, popular music. It's amazing to see how Bach to Rock nurtures students to reach their full potential.  We can't wait to bring that dedication and energy to Flower Mound," said Beth Donovan.
Bach to Rock Flower Mound will offer a variety of programs for students of all ages including: individual lessons; group classes such as Rock Band; the Rock City program for preschooler and toddlers; Kids-n-Keys for children in grades K-2 interested in piano; along with summer camps and birthday parties. Contact them at https://flowermound.bachtorock.com.
Studies have shown that learning to play music in a group helps students learn teamwork, develop social skills and build self-esteem, among other benefits.  The school will also feature Bach to Rock's new Touch Screen Tablet Technology, which allows teachers to customize lessons; gives parents the ability to view their children's progress and homework; and provides administrators with the necessary tools to ensure students are receiving a well-balanced music education.
Bach to Rock is expanding at a robust and steady pace.  The franchise has repeatedly been named to Entrepreneur's Franchise 500 and was listed in the Top Ten Trending Categories for 2016. Franchise Times has ranked it as one of the 500 Powerhouse Brands and on its Next 300 Franchise System list.