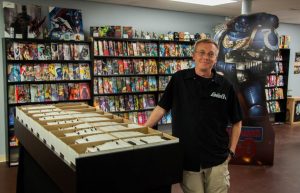 From the time he sold his first comic book online at age 14, Lee Norup has wanted his own store. Thanks to a house-bursting personal inventory, an increasing worldwide demand and the lack of such a place in Flower Mound, that dream has become a reality.
The now 35-year-old and wife Jennifer opened Twenty Eleven Comics in August next to Alforno's Italian Kitchen on Morriss Road. It came soon after they and their 11-year-old sons from previous relationships moved to town.
"I've been planning it, thinking about it and making notes for 20 years," the 1999 Marcus High School graduate said, while seated in the store. The space had sat vacant for five years, after previously housing a yoga studio.
"I've always figured there's something to this," he said. "I had sold online in large amounts and selling in bulk and on consignment at other stores, so I've spent a lot of time working closely with other store owners. I've had a lot of involvement and learned a lot about the industry."
Among the things he learned, was that his younger days were not the best times to open such a business. Then, when the Spiderman movies started arriving in theatres in the early 2000s, followed by the X-Men movies, their corresponding comics became part of pop culture; and, everything changed.
"That [transition] made it a much bigger industry," said Norup. "People would see the movies then want to read the comics, so it kind of revived a lot of life back into the industry and make it feasible to open this kind of business in the last few years."
Norup said most of the approximately 60 Metroplex comic shops have opened in the last 10 years. He figures his store is now the closest one for 120,000-130,000 people, since the nearest competitors are in Lewisville, Denton and Euless, after one in Grapevine closed this summer. Additionally, a consignment business near their previous home in Mansfield closed; leaving him with a large collection and only his house in which to store it.
"I had to go pick up all of the stuff from their garage and bring it all home and set it in our living room, because it was convenient," said Norup.
The couple once had entire rooms of their house stacked with hundreds of thousands of comics contained in long boxes.
"She [wife Jennifer] said, 'what are you going to do with this stuff? Are you going to put it in the office upstairs?'
"I said: 'yeah, it will trickle up there.' Half-joking I said: 'well we could just open a comic book store and get all these comics and Star Wars toys out of the house.'
"'She said: 'yeah, but I can't quit my job to run a comic book store all day long.'
"Once we moved up here, she quit her job, didn't find a teaching position here and said: 'what do I need to do?' "
Those conversations started in May. They signed a lease in June, did all the finish-out themselves and opened in August.
Twenty Eleven Comics carries at least 90-percent of all new titles– about 320 in all– and also sells some of the most popular board games around. Norup has designed and built most of the shelving and bins that ultimately will be able to display more than 450 comics. With about 8,000 back issues, such units will be helpful.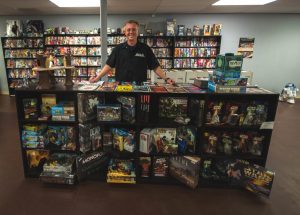 In addition to comic book sales, Twenty Eleven hosts Friday Night Magic and Dungeons and Dragons events on Saturdays, at which people can bring their games from home and enjoy a night playing them.
"They can bring their kids and leave their phones, tablets and TVs and unplug for a little while," he said. "You can spend time playing games as a family. We have several demo games to play in the store. It's something my wife and I did as kids with our parents; have game nights and stuff, before all the TVs and tablets and all that stuff. Now, with the plethora of different electronics kids play all the time, getting our kids to put down that stuff and turn the TV off and play a game is something that's always been important to us. It's a challenge for us."
With comic icons like Marvel and DC Comics putting out up to nine movies a year– and with about 15 television shows [Arrow, The Flash, Supergirl and Gotham, among others] based on comic books, the current market is skyrocketing.
"There's a lot of shows that people don't realize are based on comic books," he said. "For example Dr. Strange (an upcoming movie starring Benedict Cumberbatch) hasn't been in print since the 1990s. So a lot of them don't realize it originally was a comic book in the 60s, so it's been around for a long time."
Most superhero comics originated in some form back to the 1930s. From there characters with different origins, backgrounds and abilities in comics, movies and TV shows have followed. One of the exceptions was Star Wars, which started in the movies and expanded into comics.
When not working elsewhere, going to school, playing games or reading comics themselves, the entire Norup family often can be found working at the store. While Lee still works full-time for the federal government, the store now is Jennifer's lone focus, after careers as a special needs teacher's assistant in Mansfield and with the government, where they met.
"It's been challenging," Norup said. "At least I have a free employee to run the store for now."
But if their comic books have taught them anything, it's that superheroes love a challenge.