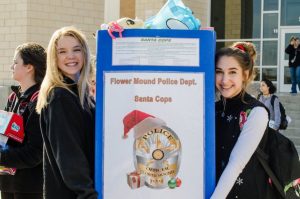 The Flower Mound Police Department and the Flower Mound Citizen's Police Academy Alumni Association report that the 2016 Santa Cops program was a huge success.
Generous donations of toys and monies allowed FMPD to help 103 families, with 279 children. Officers and volunteers distributed 1,000 wrapped toys and gift cards, including 42 bicycles and helmets.
Even though Christmas is over, you can drop off new, unwrapped, non-violent-themed toys anytime during the year at the Flower Mound Police Department, 4150 Kirkpatrick Lane, for distribution in the next Santa Cops Toy Drive.
To learn more about FMPD's Santa Cops program,  visit www.flower-mound.com/santacops.