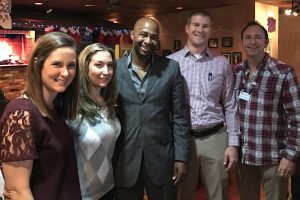 Today, looking at Kevin Franks, 43, definitely would not be the same as it was on the evening of Oct. 1 in Flower Mound.
The veteran of many 5K competitions, Franks was starting his run in the Flower Mound Rotary Fest/Neon Nights 5K, when suddenly something went terribly wrong. About two miles into the race, Franks collapsed motionless to the street.
He had suffered what turned out to be an episode of cardiac arrest from a 40-percent blockage in a coronary artery. Fortunately for him, five registered nurses from Texas Health Presbyterian Resources Hospital-Flower Mound were running right behind him.
Using their extensive training, Felicia Harding, Matthew Terbeek, Sara Fleming, Samantha Buschmann and Meredith Gautney analyzed his condition and begin life-saving measures. They exchanged providing him with deep compressions to keep his blood flowing to his brain until first responders arrived.
When members of the Flower Mound Fire Department arrived with a mobile intensive care unit, they hooked Franks up to a machine that manually pumped his heart and breathed for him.
The first responders included Battalion Chief Kelly Cato, Captain John Wright, Engineer Steve Sunthimer, plus firefighters/paramedics Travis Walker, Darren Miller, Mathew Frisinger, Dustin Brewer and Wayne Cannon.
After three weeks of treatment at Medical Center of Lewisville, including a medically-induced coma, Franks walked out of the hospital alive and well.
On Dec. 15 at Salerno's Restaurant in Flower Mound, Franks personally joined the Town of Flower Mound and the Flower Mound Rotary in honoring the nurses and emergency responders who saved his life. Five days later, similar honors were repeated at the Flower Mound Town Council meeting.
"Thank you very much to the Flower Mound Noon Rotary for inviting me to be able to do this today," said Flower Mound Councilman Don McDaniel. "I'm humbled to be the person who helps honor these folks.
"Saving a life is THE most intimate thing we can do. It's impact on the saved and saviors cannot be overstated. Without life, all our hopes and aspirations are for naught.
"To be given the gift of life a second time– to continue on the path or course– is one that cannot be repaid. Giving that gift is only known to a few among us. These heroes among us today are among those who deserve our praise and gratitude every day."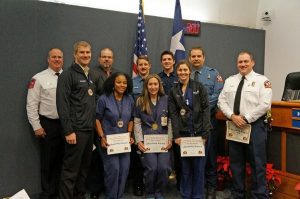 Franks, who doesn't remember anything from that fateful day, had never had any health issues before the race.
"It was a total anomaly," said Franks, a manager at a Dallas law firm. "This is the kind of thing where you truly are doing God's work. You truly get to be an angel and that's essentially what they were."
Franks has felt so well, he's even returned to running as part of his rehabilitation.
"That's another way how I can tell this was God's hand, because the thing that was part of the trial also is part of the recovery," he said.
Officials from the hospital and Rotary club also honored those who helped Franks.
"We often take for granted what our employees do every day in the hospital, but I can't say enough [about] how proud we are that they can even leave work and perform these kinds of things they are well-trained for," said Spencer Turner, president of Texas Health Resources Presbyterian Hospital-Flower Mound.
"We're just proud of our employees, not just as employees, but as individuals. They could have just run by, but they did what they felt was the right thing to do– and because they did– they helped save a life."
"Rotary's motto is: 'Service Above Self' and that's what we're honoring today," said Club President Sean Kelleher. "From the bottom of our hearts, we want to thank you for your service and what you did that day to save Mr. Franks."