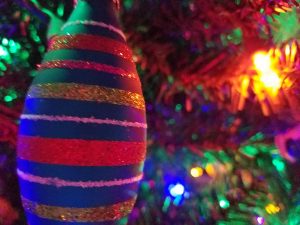 by Jason Vaughn
This time of year is often referred to as "the most wonderful time of the year." Below are five tips to help you rekindle the joy of the season:
Host a dinner party – use paper plates
We all want to be Martha Stewart (especially now that she's hosting a show with Snoop Dogg), but for most people this leads more towards stress than joy. We spend all the time hosting and prepping and while the adulation is desired we either do not have anyone over or miss out on spending the time with our friends.

Your first challenge this season is to plan a light appetizer or dinner than you can prepare simply and serve on paper plates to avoid dishes. If you really want to break out of you shell order Chinese food or pizza and relive your younger days. Ramen might be going back a little too far, but even then the people are the focus, not the "food."
Create something
Remember those homemade gifts and ornaments from grade school? They may still be on some family trees.
This year's go back to those roots and create something this season. Even if it is awful find the joy in trying and failing.
Ornaments, presents, decorations, dishes, wherever you feel led make something with your own hands. If you're lost on ideas Pinterest is full of them with a simple search.
Support a charity
The Christmas spirit is not just about our own circle, but helping others outside of it. Try to find a way to help someone in your community. While money is certainly needed, if you cannot help financially perform a chore. Clean a house, rake leaves, offer someone a ride to get their errands completed, help prepare a meal, etc. Use your gifts and talents to be a blessing. Try to keep this spirit throughout the year.
Reconnect with an old friend or family member
We all lose touch with those we love over the years. Life happens and changes occur. Maybe wounds needed time to heal. If someone comes to your mind while reading this then take a moment to send a message tell them you love and miss them. Maybe you'll find a way to reconnect or maybe you will just know you have a shot to send a little more love and understanding out into the world.
Love on someone experiencing loss
The holidays are an amazing time of the year. It is loved and celebrated by most everyone in our community. Yet for some it is a reminder of the passing of parents, friends, or even children. Many of these people would appreciate a place to be this season. Consider opening your heart and your home to these folks in your life. If you come across someone that lost a loved one this year show them your love. It will not replace their loss, but it may renew their spirit.
May you have a beautiful and meaningful holiday season and Merry Christmas to all!

Jason Vaughn is a professional balloon artist and decorator with HigherHopeBalloons.com and current president of the North Denton Young Republicans