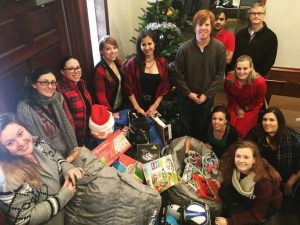 Susie Carter of Flower Mound, a small business owner and founder of Mixed Media Creations (MMC), has presented each of her 23 employees with $100 and one mission: leave it better in the community. This is the second year that Carter has adopted a business and community driven cause of this kind.
For the 2016-2017 initiative, the MMC team chose to get others involved by creating the Leave It Better Challenge. People are encouraged to use #LeaveItBetterChallenge on their social media accounts to discuss ways that they can better their community. Participants are encouraged to get creative and post videos and photos of random acts of kindness, as well as challenging others to do the same with the goal of leaving something, or someone, better than when they arrived.
"The thing I love about this challenge is that you don't need to spend a lot of money to brighten someone's day," said Carter. The Leave It Better Challenge is simply about holding the door open for someone, picking up trash, going out in the community with the intention to fix a broken world, and then encouraging others to do the same."
In addition to this initiative, MMC created an online store in 2015 called Made with Love by MMC. All of the items sold in the store are designed and produced by the MMC team, and 50 percent of the purchase price is then reinvested back into the community. Those not looking to purchase can also submit donations to help with efforts.
"A lot of the time people want to give back or pay it forward, but don't know how. It may even feel a bit overwhelming to choose a cause because they all seem equally important. That's where Made with Love by MMCcan help," noted Carter.
Over the past year, MMC has donated approximately $75,000 in goods and services to various non-profit organizations including, but not limited to, Communities in Schools, Lovepacs, March of Dimes, Lewisville Adoption Center, Brighton Boxes, KaBoom!, Flower Mound and Lewisville Chambers of Commerce, Denton County Friends of the Family, Innovate Entrepreneur Center, Women's Business Council, and various emergency and medical funds.
To purchase items from or contribute to the Made with Love by MMC store, or to learn more about the Leave It Better Challenge, please visit www.mixedmediacreations.com and click on the "Giving Back" link.