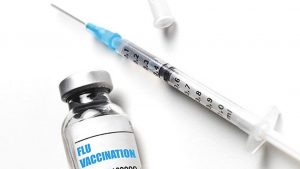 This week marks National Influenza Vaccination Week, and Denton County Public Health (DCPH) is reminding residents that it's not too late for a flu shot.
With the holidays upon us, family and friends are gathering for festivities and shopping for gifts; don't bring the flu with you. It takes about two weeks for the flu shot to be fully effective, so plan ahead and get your flu shot immediately, health officials say.
"Early indications demonstrate this year's vaccine to be a good match to the strains that are currently circulating," DCPH Chief Epidemiologist Juan Rodriguez says. "Receiving a flu vaccine is the best way to protect yourself against the flu."
According to the CDC, more than 200,000 United States residents are hospitalized from flu complications each year. Between 1976 and 2006, estimates of yearly flu-related deaths ranged from 3,000 during less severe seasons to 49,000 people during the most severe seasons.
"Denton County is currently experiencing low flu activity, but it is likely to increase in the coming weeks," Rodriguez notes. "We potentially have several months of flu season remaining, it is still a good time to receive a flu vaccine."
DCPH recommends a three-pronged approach to fighting the flu:
Get vaccinated. The best way to protect yourself and your family from the flu is to get an annual flu shot.  It is the most effective method of prevention. Current indications show this season's vaccine to be a good match to circulating strains.
Remember that antiviral medications are a second-line defense against the flu. If you are experiencing fever, runny or stuffy nose, sore throat, cough, muscle aches and headaches, visit your doctor immediately, and take antivirals if prescribed; they can help you recover quicker, and can prevent you from being hospitalized with flu complications.
Take everyday preventive actions to help stop the spread of germs. Cover your cough and sneeze, stay away from sick people, stay home when you feel sick, and wash your hands often. These steps will help prevent respiratory viruses, including influenza, respiratory syncytial virus (RSV) and rhinovirus.
Vaccination is recommended for everyone 6 months and older. It is especially important for protecting those at high risk for serious complications, including:
Young children
Adults over the age of 65
Pregnant women
People with chronic medical conditions, such as asthma, chronic obstructive pulmonary disease (COPD), heart disease, diabetes, HIV/AIDS, cancer, and morbid obesity
American Indians and Alaskan Natives
People living with or caring for high risk individuals
Search flushot.healthmap.org to find the vaccine in your neighborhood. DCPH clinics have free flu vaccines available for those who qualify (details are listed below). Visit www.texasflu.org for the latest information on flu in Texas, and www.flu.gov for details about symptoms, treatment, and prevention. You can also get updates through Twitter by following @FluGov.
National Influenza Vaccination Week was established in 2005 by the Centers for Disease Control and Prevention (CDC) to highlight the importance of continuing flu vaccination throughout the entire flu season.
DCPH Clinic Locations:
Denton: 535 S. Loop 288, Suite 1003
(940) 349-2900
Lewisville: 190 N. Valley Pkwy., Suite 203
(972) 434-4700
www.dentoncounty.com/immunizations
Qualifications:
Children are eligible for free flu vaccines if they are enrolled in Children's Medicaid or CHIP, are uninsured, or have private insurance that does not cover the flu shot. Adults are eligible for free flu vaccines if they are uninsured, or have Medicare. All others will be charged $20.
What to Bring:
Immunization record for children
Cards for CHIP, Children's Medicaid, or Medicare