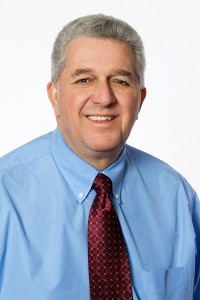 After sixteen years Dale E. Kimble, Chief Executive Officer at DATCU, has announced his retirement effective at the end of the year.  There will be a reception to honor him and his years of faithful service on Thursday, December 8, 2016 from 4 p.m. – 6 p.m. at DATCU Headquarters located at 5940 I-35E in Corinth.
Kimble is a native of Louisville, Kentucky and a graduate of the University of Kentucky as well as CUNA Management School.  His financial services career has spanned 40 years. Since he took the helm, the credit union has grown from $186 million in assets to $868 million.  Branches have grown from four to ten and membership from 40,000 to over 88,000.  DATCU is one of the largest credit unions in North Texas and one of the most stable and secure in the nation.  For years, DATCU has been recognized by Bauer Financial, the nation's leading independent bank and credit union rating firm, with a 5-Star Rating and has received an A+ in financial health from DepositAccounts.com placing it in the top 200 credit unions in the nation.
Dr. Derrell Bulls, a Past Chairman of the Board and Director Emeritus, said on behalf of the credit union "I congratulate Dale on his upcoming retirement.  He's had a distinguished career and is an outstanding leader that led our organization to new and greater heights.  Sixteen years ago we made the right decision in hiring him to lead us into the future.  It's been a marvelous pleasure working with him."
Kimble epitomizes the credit union philosophy of "people helping people" having received numerous awards for his leadership and community service.  In 2013, he was honored as "Professional of the Year" by the Texas Credit Union League.  Texas Governor Rick Perry appointed him to serve on the Texas State Credit Union Commission from 2006 through 2013.   Kimble's service has extended to many local boards and community organizations a few of which include Health Services of North Texas where he is a Life Member, Serve Denton where he was the inaugural Board Chairman, United Way of Denton County, Heroes of Denton County, and Denton Regional Medical Center where he served as Chairman of the Board.
He formally announced his retirement to the Board of Directors and employees in late summer. "I am extremely proud of what we have accomplished.  It's been such an honor for me to serve our members and communities these last sixteen years.  I've been with the same management team for over ten years and am confident that DATCU is well positioned for continued, strategic growth in the future" stated Kimble.
Glen McKenzie, current President will succeed Kimble as CEO in January.  DATCU Board Chairman, Susan Romero, stated "We are so pleased that Glen has accepted the CEO position.  In the last fifteen years at DATCU, he has served in every executive role.   Glen has a great work ethic, is dedicated to helping people, and is enthusiastic about the future; we have every confidence that he will lead DATCU honorably as we continue the legacy of providing outstanding service to both our members and the communities we serve.
DATCU Credit Union, founded in 1936, is a full-service, member owned, not-for profit financial institution.  With a long-standing tradition of exemplary service, they currently serve over  88,000 members; Membership is open to anyone living or working in Denton, Cooke, Wise, Montague, or Clay Counties.  All are invited to take advantage of the products and services the credit union offers.  These include checking, savings, credit cards, multiple loan products, investment products, and insurance.  To learn more about DATCU Credit Union, visit www.datcu.org or call 866-387-8585.