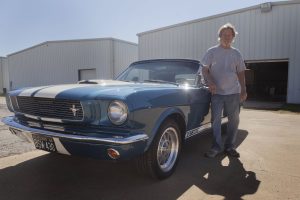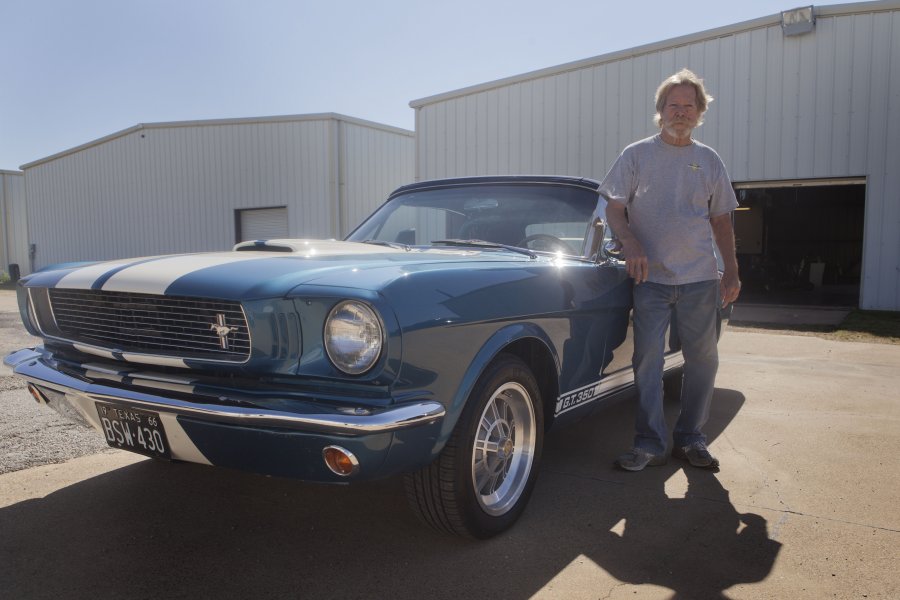 In 1986, the world-famous plane, Burt Rutan's Voyager, flew around the globe, to-and-from Edwards AFB in California– nonstop, no refueling or meal breaks.
David Bell was a volunteer contributor during the development of the record-setting plane now on display at the Smithsonian Institution in Washington, D.C.
The logo for Bell's company is a gray-blue "W" (that could pass for a head-on view of a small airplane) in front of a full yellow sun; both suspended in a cream colored sky.  The business, named Winged Graphics, is housed in three airplane hangars at Northwest Regional Airport; not far from his home in Argyle.
"I got my start in aeronautics restoration, fixing up planes for aerobatic performances and airshows," Bell said.
It'd be wrong, however, to conclude he is involved with airplanes, because the hangars are filled with cars from yesteryear in various stages of restoration.  At the moment, he is working on a Mustang, a Pontiac GTO, a Studebaker, and a Volvo among other makes on the property.
During his San Angelo, Texas, childhood Bell became a 12-year-old with a taste for hotrods.
"My neighbor, Bob Kyle, a do-it-yourself high schooler, patched together a 1932 roadster to drive around town," said Bell. "I thought, 'did he pay $30 for the body at a junkyard?' In 1953, the car wasn't the antique it would be today, but it was getting on in years."
A photo of that car and its proud owner hangs over one workbench at the Winged Graphics workshop.  The body is green, the wheels are fire engine red and the exposed engine sports a shiny chrome ribcage.
"At age 14 I got my first driver's license and, not to be outdone by Bob, I managed to acquire a 1941 two-door Ford coupe I eventually drove to and from school," he said.
Mom Bell wasn't taken with her son's hotrod fascination and promptly enrolled him in the Allen Military Academy in faraway Bryan, Texas.
"They didn't have auto shop classes at Allen," said Bell. "The place was no nonsense; no cars, no civilian clothes and classes six days a week.  I graduated and spent a year at North Texas State University– now UNT.  At that time, the university was reputed to be the number one party school in America."  Lady Luck smiled.  "My roommate drove a drag racer."
Bell cut his academic life short by quitting school, whereupon Mom Bell called his draft board.  This was during the Vietnam conflict.  Her military school graduate son qualified for Officer Candidate School and spent the next four years in the army, without an overseas hitch.
He returned to college with a more mature attitude and received an undergraduate diploma in biochemistry.  The graduate school experience was short-lived.
"I really feel people ought to do what they love and my passion has always been restoring old cars," Bell said. "There was no point in me becoming a science-whatever."
Today at age 70, he's laid back in tee shirt, jeans and running shoes, blue eyes, plenty of yellow hair and a variation on a Van Dyke beard.  There's nothing about him that says stereotypical grease monkey.
All three hangar workshops are pin neat and he, his son and business partner, Taylor Bell, a big dog named Ruby (job description "doorbell") and a cat named Little Bit listen to classical music while they work.
"I am not a used car dealer; I work on cars," he said, chuckling. "The thing about automobile restoration is that you don't know how deep the puddle's going to be until you step into it."
A midnight blue, vintage British roadster– called a Cobra– sits overhead on a hydraulic lift, between one of Bell's big worktables and a paint booth.
"The owner ran out of mad money before we finished, so the job is on hold at the moment," said Bell; to date, the restoration has totaled around $200,000.
Ever seen an automobile paint booth?  Really, the noun "booth" doesn't do it justice.  The thing looks like a massive, riveted gray sheet-metal box, with a huge, equally gray metal smokestack.
Yup, in this case, a smokestack that rises from the slanted roof of a plane hangar.  This booth occupies maybe one-quarter of the hangar's square footage.  Cars go in and out through a pair of double doors that lock tight.  The painter can go in and out through a normal-size door in one side.  He pushes a button inside the booth, an invisible fan starts a deep humming, then sucks air filled with excess paint spray and fumes up the chimney.
One of Bell's airport neighbors drives a 1972 Corvette he bought new, when man and machine were young.  Somewhere around the car's 20th birthday, the work of restoration got started.
"He never drives it in the rain, which is bad for the perfect paint job and the underside," said Bell.
The 20-year-old engine looks brand spanking new.  An owner's got to bestow serious love on his restored car.
"One of the biggest problems for an old car's engine is modern gasoline, which contains alcohol," said Bell. "That's detrimental to the components. It's hard to get old gas. Old engines have to be updated to use today's fuels.  Owners tow old gas cars on trailers, then putt-putt short distances in parades."
Bell's love of hotrods led to a few stints with race car teams.
In 1995, 1998 and 2002, he worked on cars in La Carrera Panamericana, the Mexican overland run across colonial Old Mexico from Vera Cruz to North Laredo.
"I subbed for a driver in the 1995 Cuban team's rented Packard," he said. "That was fun."
He also worked once on a car that participated in the Peking to Paris race (Peking being the former name of China's capital city, Beijing). As they say in the texting world: OMG– somebody drove old cars across the Himalayas?
"My wife, Suzanne, is not passionate about cars," he said. "She likes to restore home furnishings."  The Bells live in a former Baptist church transformed into a quirky residence.
Bell came to southern Denton County in 1985, but his ancestors drove their covered wagons and blacksmithing equipment to McKinney, from Tennessee, before the Civil War.  Some years back, he gave the family's historic residence, the Faires Furr House, to a historical group and sold the family land, upon which the county courthouse would be built.
"My roots and Suzanne's go back in American history."
She is a direct descendant of Davy Crockett.
"As a matter of fact our son's full name is Taylor David Crockett Bell."