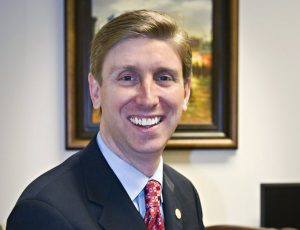 by State Representative Tan Parker
It's hard to believe 2016 is rapidly coming to a close. The Christmas holiday season is upon us and we will soon be ushering in 2017. There is much anticipation ahead for us as a nation and state as we look ahead to our future.
Here in House District 63, I am very enthusiastic about getting to work for the citizens of Denton County and contributing to the policy direction of our state.  Serving as your representative in the Texas House is truly the highest honor of my professional life and a charge that I take very seriously.  As such, over the year and a half since the end of the 84th Legislative session, I have been preparing for the day when your Texas Legislature reconvenes for the 85th Session and addresses critical issues to keep Texas moving in the right direction.
Of course, the only way to truly understand our priorities is to listen to the concerns, ideas, and triumphs of the people I am fortunate to represent as well as many others who have generously shared their input and ideas over the course of this interim period. In addition to Committee hearings, attending local events, and meeting with engaged citizens, I have also continued to host open office hours on the first Saturday of every month.  This has always been a rewarding experience for me that provides a more convenient time to those who need greater scheduling flexibility.
Generally referred to as First Saturday Coffees, the open office hours I have hosted for nearly 10 years when the legislature is in recess provides interested individuals with the opportunity to enjoy a cup of coffee while visiting with me about issues important to them.  The last year and a half of meeting people through my open office hours has given me great value and perspective to apply while serving you on the House Floor.
As has always been the case, my attention and focus will be on representing my constituents from Austin during the upcoming legislative session that starts on Tuesday, January 10, 2017.  In keeping with my traditional approach, I will be temporarily suspending these First Saturday Coffee gatherings starting in January since so much of my time will be required to be spent at the State Capitol.
However, there is still the chance to come by the office and enjoy a cup of coffee with me at my final Saturday coffee gathering before the 85th Legislative Session, on Saturday, December 3rd from 8:30-10:30 a.m. – or until the last person leaves.  Please join us and share your thoughts with me in preparation for the legislative session before I depart for Austin.  If you cannot make it this weekend, then I hope to see you when the First Saturday Coffees resume.
Although I am in Austin during the week, I want to stay in touch and hear your thoughts so please contact my Capitol office at (512) 463-0688, my district office at (972) 724-8477 or by e-mail [email protected].  I also intend to use Twitter as a communication tool during the legislative session and encourage people to follow and tweet to me at @tparker63. Additionally, to receive further legislative updates, you can like my Facebook page www.facebook.com/TanParkerTX.
During a typical legislative session, my office receives thousands of constituent correspondence items, and I truly work diligently to be responsive to each of them.  I value the thoughts of my constituents and look forward to sharing them with my colleagues in the Texas House, so please continue to keep me apprised on the topics most important to you.  Your voice does matter!
As always, it is an honor to serve you in the Texas House of Representatives.  If I don't see you prior to the start of the next legislative session, I would welcome you in Austin anytime and hope to see you around House District 63 as well.