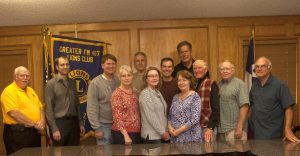 Looking for something fun and community-friendly for their first major fundraising event, members of the new Greater FM 407 Lions Club believe they will hit their stride come Saturday, March 4th.
That's when the Lions Country 5K and One Mile Fun Run will take place at the Bartonville Town Center. Participants will then walk to the stable parking lot at Saddlebrook Estates before hitting the streets of the subdivision.
"This year we wanted to start something that can be an annual event to benefit the local Lions Club charities," said Harry Otto, president of the club that serves Bartonville, Double Oak, Copper Canyon and Lantana.
"We looked at a number of different races and thought a 5K would be best because it could be contained within Bartonville which is very supportive of the race. And Saddlebrook Estates is a perfect location because it's so scenic and there's not much traffic on the roads."
The cost for the 5K is $30 and the Fun Run is $25. All proceeds will help area charities, including the Texas Lions Youth Camp, Drug Awareness Council, Watauga Eyeglass Recycling Center, Leader Dogs for the Blind and the Texas Lions Foundation.
All entrants will receive T-shirts with prizes being offered to area schools. Each high school and middle school with the most participants in the 5-K will receive $250 in cash, while each middle or high school with the most participants in the Fun Run will receive $100, courtesy of sponsors like Wells Fargo, Kroger and Bartonville Veterinary Clinic.
"In addition, prizes designed with unique aspects of our local area in mind will be offered to the top finishers in each age group," said Otto.
Runners of all ages and skill levels are encouraged to participate in the event.
"The fun run is great for kids because it gets them involved," said Otto. "We're encouraging the schools to get involved with running."
Registration begins at 6:45 a.m. with the Fun Run starting at 8 a.m., the 5K at 8:30 a.m., followed by awards at 9:30 a.m.
Interested competitors can register online at: fm407lionsclub.org, or in person the day of the event.