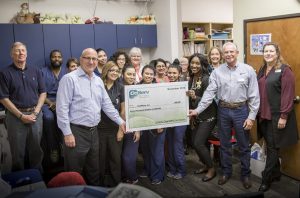 PediPlace, a Lewisville-based nonprofit pediatric clinic, aims to make healthcare a reality for every child. On Tuesday the CoServ Charitable Foundation (CCF) presented a $40,000 grant to help them achieve that goal.
The grant will fund treatment for illnesses, immunizations, hearing and vision screenings, asthma and newborn care, among other medical necessities.
PediPlace CEO and President Larry Robins thanked CCF for its contribution, citing a 2015 study that showed children on Medicaid who receive medical treatment become healthier adolescents. PediPlace is needed, he said, as the number of doctors accepting Medicaid patients continues to decline.
"Our goal is to increase the health of our children and their families by becoming their medical home," Robins said. PediPlace charges for treatment on a sliding scale and turns no one away.
Since 2004, CCF has donated $278,000 in funds to treat the community's children.
Funding for most CCF grants comes from CoServ members and customers through Operation Roundup, and the money can only be distributed within CoServ's service territory. 
"The funds come from our Members and Customers who round up their bills," said CoServ Director of Community Relations Vicki Sargent. "It's an honor for us to facilitate their good will."