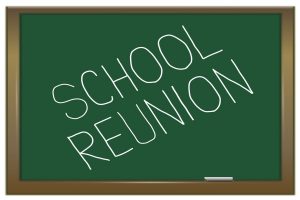 To reunite with friends after fifty years is an extraordinary experience!  It's exciting, inspiring, uplifting, enriching, moving and even a little scary!  At least these are some of the emotions that washed over me at my 50th high school reunion.
My alma mater arranges for a gathering ever ten years.  To be honest, I missed the last one so it had been "twenty years" since I'd seen any of these old people…and likewise, twenty years since they'd cast their bespectacled eyes on me.  Actually, the waning vision tends to make the person or object you're trying to focus on appear a little blurry.  This, in turn, makes wrinkles smoother giving the illusion of youthful skin.  (One of the few perks of becoming a senior citizen.)
But before I describe the reunion itself, it is befitting that I elaborate on the festivities of the evening before.  True to form, there is always an "ice breaker" the night preceding the reunion.  The invitation to this get-together is extended to all but usually attended by a much smaller group.  To put things into perspective, there were about 850 students in my graduating class!  Indeed, it was a very large school.  Of that number, approximately 60 came to the pre-reunion party and close to 170 were present at the actual event.  Part of our admission price included a nicely done book of memories.  There was a sad page, with two columns naming all of those classmates who had passed.  This was followed by three pages, each with three columns, of names of all the "lost" people who could not be contacted.  I would have thought, that with all the technology generated by today's internet, that many of these could have been found.  But then I wasn't in charge of things, now was I?
Jane, my BFF, and I had connected at the St. Louis airport baggage claim area earlier that day where we rented a compact car that was ludicrously overpriced.  Previously, Jane had texted me that she had put some purple in her now silver tresses.  Knowing Jane, as she was a hippy back in the day, I had little doubt that she'd done just that.  Now, a successful vet with her own practice in Kansas City, she can darn well do as she pleases to include dying her hair most any color she deems appropriate.  And so she had and it was a stripe about 3 inches wide and it looked fabulous.
Now here's where things get a little sticky.  The reunion committee chose two bars right across the street from each for the pre-reunion shindig.  McCluer High was located in Florissant, Missouri, skirting the border of Ferguson, Missouri.  The bars were located in Ferguson.  I learned later that the unrest from the August 2014 tragedy took place about a mile away.  When my husband heard of the location for "cocktail hour" he turned bright red…not a particularly becoming shade on him.  I was forbidden to attend anything in Ferguson and that was that.  Since he had decided not to accompany me, I decided he wasn't the boss of me.  So my BFF (Jane) and her younger sister (Julia, age 64) and I, all went together.
Julia would know at least a few from our graduating class and many of their younger siblings with whom she attended McCluer.  There were blank name tags on a table as we walked in.  I filled out mine and when I turned around, Jane slapped another one on me.  I'm notorious for not wasting anything so I awarded Julia with my duplicate name tag.  While taller than I, Julia has the same color red hair, compliments of Preference by L'Oreal…since we're both worth it.  Other than that we look about as much alike as Donald and Hillary.
It was extremely entertaining to watch as people approached her or vice versa.  There was a lot of head scratching over the duplicity, but once I appeared relief seemed to wash over my school mates.  Julia played her part to the hilt to include reminding her prey of the history class they shared, "You know the one taught by Mr. Kates?"  (Remember, it had been 20 years since they'd seen me or I them.)  It was as though they thought they had completely lost it and 68 years old seemed a bit young for that. But don't count old codgers out…most everyone stayed pretty late, like 'til 11 p.m.!  I thought I was going to have to call in the cavalry to get my BFF to leave.  I'd signal by waving my arm for her to come on.  She'd nod, and head in my direction. When I'd turn to look over my shoulder to see how far behind she trailed, there she was having stopped to chat with another cohort from a bygone era.  This happened repeatedly until I finally just plopped down in a chair and took off my boots.  (They were really cute but terribly uncomfortable after 5 hours of standing.)  Julia followed my lead.
Sundown the next night was the beginning of something magical!  It was a miracle that so many people made the effort to show up…New Mexico, California, Arizona, Philadelphia, several from parts of Africa, Guam, New York, the list goes on, and surprisingly many have never moved at all.  Still we all came together in a charming country club.  We were treated to some excellent hors d'oeuvres and a very tasty meal.  I can't speak for the libations since I stuck to ice tea but their consumption seemed to be generous and unproblematic.  One thing missing was the dance floor.  Last time I attended, we were treated to some great sixties' oldies.  This encouraged folks to slow dance and form some kind of line dance popular in our youth…can't recall what it was, if you can imagine.  This time the music was a back drop and no place to "trip the light fantastic."
I found it amusing that gossip still thrives this many years later.  There were several rumors being passed around regarding who slept with who at the previous reunion.  Some of these circulated at such a pace that you could hardly have a dialog without a scandalous rendition of the outdated dirt.  (Some things just never change!)
It was, indeed, a blessing that the name tags we wore this night had our senior class pictures clearly emblazoned above our names. Of course, the ladies all had their first names followed by their maiden names.  None of us were recognized as married.  Some (actually very few) spouses who did not graduate with our class accompanied their significant other.  I can't imagine how boring that would be for them.  That was exactly why my husband said, "I'll pass."
Well, we all passed and went on to live some very diversified lives.  As my BFF pointed out, "Since most everyone was retired by now, no one tried to outdo each other with their station in life.  This was so relaxed.  The biggest rivalry was over how many grandchildren you had."
And wouldn't you know, my two turned out to be the cutest and the smartest of all!
The general consensus of the attendees was that we only wait two years before having another reunion.  People decided that to wait another ten years might make the sad page in the memory book way too long.  Besides we'd all be pushing 80 pretty hard and that might make getting around too difficult for too many.
I'll let you know what actually happens when the time comes.  BTW, true to form, Jane lost her way three times before I could usher her out the door.  Again I was forced to have a seat while she cavorted amongst the remaining diehards.  Wasn't all bad, I got to take my (really cuter than the boots) sassy new shoes off!  Hope I'll still be able to wear them next time!
Read Cindy's column each month in The Cross Timbers Gazette.