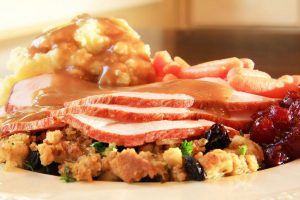 The winter holidays can be a time for indulgence, with the average Thanksgiving Day meal weighing in at 4,500 calories and Christmas Day diners eating up to 7,000 calories. Those numbers are well above the U.S. Department of Agriculture's recommended 2,000 to 2,500 daily consumption of calories. However, eating healthy on holidays isn't impossible.
University of North Texas nutritionist Ann Marie Afflerbach, a lecturer in the Department of Hospitality and Tourism Management, offers some advice.
Afflerbach recommends avoiding the first mistake people make: skipping breakfast or lunch.
"Skipping meals doesn't give you a free pass to overindulge," she says. "When we skip meals, that can lead to an imbalance in blood sugar. Then we are hungry, so we overeat on foods higher in fat and sugar. Instead, begin your day with a good breakfast balanced with carbs, protein and fat to make a statement of being committed to good health."
She adds cooks should plan ahead as well.
"Just like the saying 'Don't shop on an empty stomach,' I would say 'Don't cook on an empty stomach.' As cooks, we have to taste what we are making, but we don't have to eat it all. One tip is if you are making the holiday lunch, then make sure you eat breakfast before you prepare the meal. Another tip is to have cut up vegetables to munch on if you feel the need to snack while cooking," she explains.
"Make your holiday meals healthier by not adding tons of butter, cheese or gravy," says Afflerbach. "For green bean casserole, make your own gravy or sauce instead of using the canned cream of mushroom soup. This allows you to modify it and add less overall fat and salt. Another idea is to offer steamed vegetables, like green beans or carrots, instead of a casserole."
Regardless of what is prepared, Afflerbach says individuals have the final say on the foods they eat.
"When eating at a friend's or family member's house during the holidays, you have no control over what is prepared," she notes. "However, you can do several things to keep your meal healthy. Gravitate toward the fresh fruit, steamed vegetables, salad and baked turkey or ham, and choose small portions of casseroles. By filling up on fresher foods, you won't want or need to fill up on the higher calorie items.
"Don't avoid your favorite foods though; just take a smaller portion size," she says. "Also, avoid foods made with a lot of fat or sodium."
She adds that smart eating goes beyond the main course.
"Drinks are one of the biggest pitfalls," Afflerbach says. "Avoid drinking your calories in the form of higher calorie eggnog or alcoholic beverages.
"It's okay to eat dessert, but the key is to not overeat," she says. "Try a small spoonful or bite of each dessert. If there is one dessert in particular you want, then take a smaller serving.
"As far as bread goes, skip it unless it is homemade or if it is one of your favorite foods. Save those calories for dessert," she suggests.
"Remember that the holidays are for enjoying family time, and that involves eating, but don't forget to exercise as well. Movement will help in digestion and help burn those excess calories you may have enjoyed," says Afflerbach.