Drive along McMakin Road in Bartonville this holiday season and discover what's become a tradition at Barbara Nunneley's 10-acre ranch.
For the ninth consecutive year, the so-called OMG tree is brightly lit with dazzling green lights replacing the original white ones two years ago.
"It's our Bartonville tree," said Nunneley. "Some of the ladies walking the neighborhood recently said 'we're so excited. This is the beginning of the holiday season for us. We just can't wait.' I said 'OK, I hope you're OK with the traffic.' "
The anticipation was virtually killing friends and neighbors who saw the lights being set up. They had to wait until Thanksgiving night but have until early January to view it.
"Thanksgiving is my favorite holiday and I don't like to jump the gun and put the packages under the Christmas trees," Nunneley said. "I so enjoy that our whole family comes from as far away as Birmingham, Alabama, to our locals in Dallas to Wichita Falls and Denton. We all congregate including my 89-year-old mother (Mildred) who still lives in Nocona. Everyone brings the traditional Thanksgiving dishes. We're all into coffee right about dark. We just wait until it's dark enough out to really go pizazz. That's when we plug it in and turn on the lights."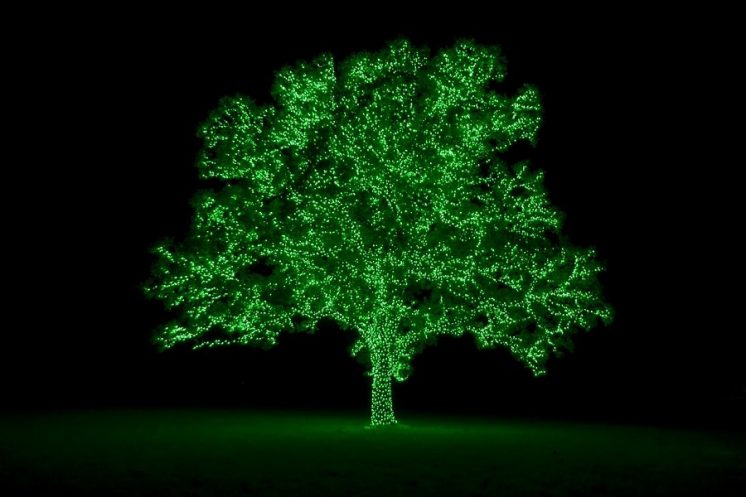 About 60,000-65,000 LED lights are installed on the 150-year-old pecan tree by The Christmas Light Co. of Dallas whose owner Bill Rathburn suggested the green lights. It takes a crew of up to eight people about 20 hours to string the tree which is so tall, a huge cherry picker is required to reach the top.
The idea to light the tree originated when Nunneley's father Earl was suffering from terminal prostate cancer and she wanted to do something special for him.
"It was going to be his last Thanksgiving and I just decided to rip it and let it go," she said. "Unfortunately he was so ill that he wasn't able to see the tree. He passed away the next day."
Nunneley found The Christmas Light Co. on an Internet search of someone to do some basic outdoor decorating that eventually turned into something bigger.
"They did the outline of the roof on the house and Bill said 'man, you've got a tree out there, a pecan that would just be beautiful if we could light that up.' And I said 'at a beautiful price too.' We went with the lights in the yard until I finally said 'you know what, with daddy being sick, let's just do it once. As it's turned out, it's not just once. It's the community's tree and we have to keep on doing it."
Besides countless passers-by, Nunneley said there's been about a dozen marriage proposals at the tree though the divorce attorney forbids those who have become engaged under her tree to use her services.
"As is traditional it's usually the fella who comes by to ask permission," she said. "They bring the whole family to watch then rush off. I tell them to watch out for the horse manure. You have to share the pasture not only with the tree but with the horses.
"Everybody is so nice. They come to the door. They call. They're very respectful. Those who wanted their families to see the secret proposal we've coordinated with the groom-to-be. We've had several really exciting proposals."

See the Tree – From south: Head north on Shiloh Road from FM 1171 (Shiloh becomes McMakin). Look for the tree on the left just past Barrington Hills Blvd. From north: Head south on McMakin Road from FM 407 near Lantana. Tree is on the right just before Barrington Hills Blvd.