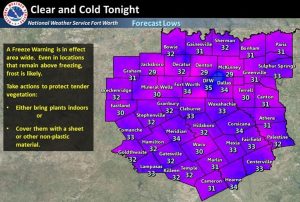 The National Weather Service has issued a Freeze Warning for Denton County.
The warning will be in effect from 3 a.m. to 9 a.m. Sunday morning.
Temperature are expected to fall to between 28 and 32 degrees with light winds.
Outdoor plants may be killed by freezing temperatures. Be sure to bring pets inside and turn your automatic sprinklers off.
The average date of the first freeze in North Texas is November 22.