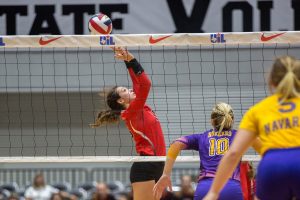 by Hudson McCabe, The Talon
The Eagles swept Geronimo Navarro at the Curtis Culwell Center in Garland on Friday during the UIL state volleyball semifinals.
Seniors Allison White, Maddie DeGuire, and Halee Van Poppel all started strong which helped the Eagles easily win the first set 25-15.
The Eagles started the second set with a quick 13-6 lead over the Panthers. However, Geronimo Navarro fought their way back with four unanswered points putting the game at a more competitive 14-10. This second set comeback would not end up being enough to save Navarro as Argyle would go onto easily win the set 25-15 thanks to an 11-1 scoring run and Navarro's sloppy play.
The Lady Eagles started hot and went up 2-0 in the beginning of third set thanks to a service error by Navarro's Sydney Sahd and a kill by Allison White. The Eagles continued to build a resounding lead in the third set by going up 9-0.
Navarro eventually stopped the Eagle's scoring streak thanks to a kill by Allie Benners. The Panthers clawed their way back with an 8-1 run, putting the third set to a more tightly contested score of 11-8. Despite Navarro's eight point comeback the Lady Eagles would go on to take the third set 25-15.
After the game Navarro's head coach, Phyllis Fowler announced her retirement and praised the Eagles success so far during the state tournament.
"They are a very good team with lots of experience on this floor," Fowler said.
The Eagles swept the Panthers, winning every set 25-15. This win over Navarro, should give the Eagles the momentum  needed heading into the the state championship where they will have a rematch of last years final against Bushland.
"We did it last year and we can do it again," DeGuire said.
The Lady Eagles will play tomorrow at 1:30 p.m. at the Culwell Center.