Tuesday, November 15, was career day at Garden Ridge Elementary School in Flower Mound. Therefore, people from throughout the area who had something to contribute to those young evolving minds were asked to spend a few minutes with the children during a typical school day.
Whether it was a topic about local government, police work, cultural arts, or how the LISD Board of Trustees helps in the management of the school district, several area residents participated in furtherance of broadening the education of our kids.
Among those who donated their time and efforts were Angie Cox, LISD Board of Trustees; Flower Mound Councilman Don McDaniel, Denton County Deputy Sheriff Barry Minoff, Flower Mound Police Patrolman Erik White, and Annette Weir, Vice-Chair of the Flower Mound Cultural Arts Commission.
The elementary-age children were able to hear about the different possibilities open to them in their future careers. As I observed them learning about the role of the police from Officer White, it was obvious how excited they were to see and hear from a uniformed policeman and ask him questions about his service to the community. More than ever before, the children should be taught how important law enforcement is to the functioning of a safe society. These early meetings with positive role models can help them make discerning choices when they're exposed to some of the negatives being promoted by mass media outlets.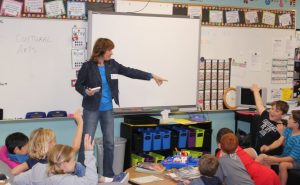 When Annette Weir (aka Netsky Rodriguez) opened her chats with the 3rd and 2nd grade students about the cultural arts, she began by asking them to imagine a large umbrella. Then she asked how many students like to paint, sketch, sing, dance, play instruments, etc. Each question elicited numerous enthusiastic hands being raised. She explained that each one of their choices would be considered part of the cultural arts, which fits under the umbrella. As she called on each child they talked about which part of cultural arts they were most interested in. To describe those youngsters as cute would be an understatement. As Annette said later, "They're so cute, you just want to kiss and hug those little darlings!" By the time Annette finished her talk, every child seemed ready to begin their career in some area of the cultural arts.
Whether the children were inspired by what they experienced is unknowable. However, given the excited reactions from entire classes it sure seemed like some good impressions were made. Hopefully, it will have a positive impact on their lives. Lewisville Independent School District is one of the finest in the state. Without good teachers and school administrators we'd have a very bleak and unproductive future. Thankfully, we have educators who will bring out the best in our kids and help them to become the leaders of tomorrow.
Bob Weir is a former NYPD officer, long-time Flower Mound resident and former local newspaper editor.